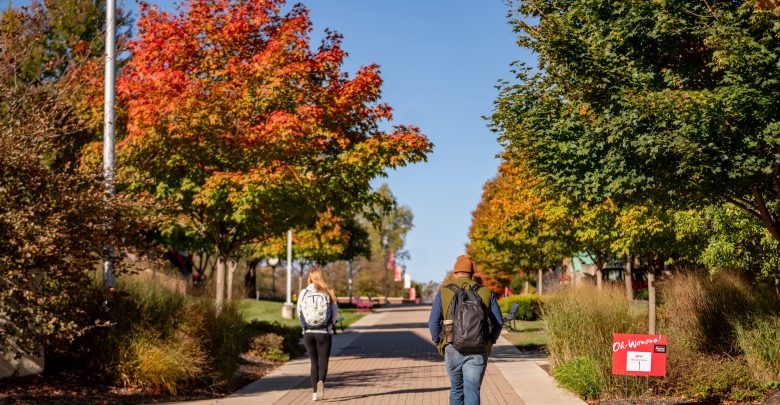 OWU closes House of Peace and Justice
The House of Peace and Justice after 33 years at OWU is no more. The university closed the Small Living Unit (SLU) citing an "ongoing and unresolved issue."
The SLU will close at the end of the current semester and remain closed through the end of the 2019-2020 academic year. The announcement from Doug Koyle, associate dean for student services, was made two days before students left for Thanksgiving break.  Koyle did not provide details about the issue that led to the closing of the long-standing SLU.
In a statement, Koyle said the House "created a strong legacy of service and graduated an accomplished group of students. The House's mission is important, and we hope to see it return as a vital, impactful part of the campus community."
Current residents of the house will be moved to other locations. And the university will offer a counseling session for students. Koyle said students can apply to reinstate the House during the spring application process.
"Ohio Wesleyan remains very supportive of our Small Living Units," Koyle said, "and the value they create as living-learning communities that help students pursue topics of special interest and educate the campus about those topics."
The closing comes at a time when OWU's other SLUs struggle to recruit people to fill their households, despite claims to the contrary by Residential Life.
Residential Life, which manages the houses, declares on its website that this unique housing is popular and fills up quickly.
But with many houses struggling to fill spots, some students are debating if they want to live in a SLU.
"This is my second year in SAGE (Sexuality and Gender Equality House)and I love it," said junior Maggie Welsh, "but I can understand why a lot of students wouldn't want to live in a SLU. You have to live with both genders, everyone has to do a house project, house meetings every week, and chores. These can take up a lot of time."
SLUs are themed houses where men and women apply to live. With two more SLUs added in the past two years, the campus now has eight, giving students a variety of choices.
The houses hold an average of 10 people in each, depending on the number of rooms in each house.
La Casa, previously the Spiritual Athletes House, is the newest SLU, so it's not unusual to have difficulty recruiting people, said junior Carlos Ismael Arroyo Govea, a member of La Casa.
"But I think there are a lot of students who are from Latin American countries that would fit in really well here," he said..
La Casa has two spots open for the spring semester and is taking applications.
At Ohio Wesleyan, most students must live on campus all four years. Instead of living in residential halls, the school tries to find different accommodations for students who do not want to live in residential halls. This year, OWU began a $60 million project to build apartments for seniors fronting South Liberty Street.
Some, such as Claudio D'Ambrosio, a fifth year senior, can't find a themed house they like.
"If there were more different themes then I wouldn't hesitate for a second to join one," D'Ambrosio said.
The themes for the eight SLUs are Citizens of the World (COW), Creative Arts House (CAH), House of Linguistic Diversity (HOLD), House of Peace and Justice, La Casa, Interfaith SAGE, and Tree House. This year, the houses having problems recruiting are SAGE, La Casa, and Interfaith.
Transcript correspondent Elenya Stephani contributed to this story.