New adviser plans to expand reach of WRC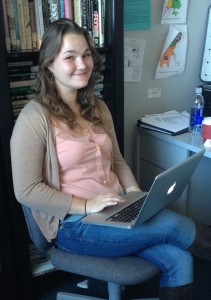 By Sam Simon
Transcript Reporter
The Women's Resource Center is going through some major changes this semester, due largely to the changes in Counseling Services.
The center is stocked with books, condoms, pamphlets and, presently, one intern to answer questions and offer advice for six hours a week—senior Skylar Drake.
Drake, who was hired last year through the Student Assistantship Program (StAP), said she is always looking for more resources that are relevant to the center and for opportunities that would allow the center to provide services to students. As an intern, she said she is there to help women on campus, raise awareness, look at literature and assist with current issues pertaining to women's rights on campus.
This year the WRC also has a new advisor, Sarah DelPropost, who is an OWU graduate and now works in Counseling Services. DelPropost is replacing the previous advisor, Colleen Cook, who left the university this year.
"It is clear that the Women's Resource Center has quite a legacy here at OWU," she said. "As the adviser, with the help of the interns, I hope to honor the dedication and vision of those who have worked hard here before us by carrying the torch of activism and education regarding women's and human rights issues."
Additionally, the center was looking to fill two more six-hour a week positions through Sept. 25, the end of its application period.
"We intend to extend and complete interviews to a select few, and secure an additional two interns by the second week in October," DelPropost said. "The center will then be alive with energy not just…Drake, but with the extra pizzazz of two additional, passionate interns."
Drake said with the new interns, the center would be open an additional six hours a week.
"I believe there is a potential need for more resources, and new interns will hopefully help broaden the reach of the center beyond campus," she said.
Getting the word out about the center and the new resources available to students is an something Drake hopes to publicize.
The WRC has a Facebook page that DelPropost said it plans on utilizing to get information out regarding sponsored events and current events pertaining to women's issues.
DelPropost said the WRC's budget for this year is "on par" with last year's. As long as the interns continue to make connections with other organizations where there is an overlap in the interest area on campus, she thinks the staff will have a successful year.
Drake said they currently do not have any events planned for the upcoming year, but she and DelPropost have been working on programming.
"We have already been contacted regarding sponsorship for an event in the spring by OMSA (Office of Multicultural Student Affairs), we are discussing the screening of a film on the topic of 'virginity' and the cultural roots and implications, and we are currently planning for the return of a body image speak-out (called 'Written on the Body')," DelPropost said.
Junior Meredith Harrison, an intern in the Spectrum Resource Center (SRC), said her organization has previously collaborated with the WRC to put on programs like this past spring's "I Love Female Orgasm" and "Written on the Body." She said the SRC and the WRC are mutually supportive, and said the latter plays an important role on campus.
"WRC is important to campus because women on campus need a resource where sexual identity is de-stigmatized and where they can be empowered as a repressed gender in society," she said. "WRC makes a point not to identify as a feminist organization so that they can be available to all women on campus, even those who do not identify as feminists or supporters of the women's movement."
DelPropost said she thinks one positive aspects of the WRC's history has been its ability to work in collaboration with other resources and organizations on campus.
"Women's issues do not exist independently of race, class, gender, ethnicity, sexual identity, etc.," she said. "As such, I look forward to continuing to forge relationships with organizations that also seek to affirm and reflect the intersectionality of various identities with the identity of 'woman,' and work together to make (the) campus and the world a more informed and passionate community for justice."