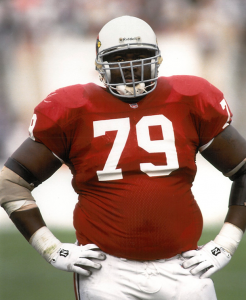 By Taylor Smith
Sports Editor
When Keith Rucker first arrived to Ohio Wesleyan in January of 1989, he knew he was getting another chance to play football; but his main goal was to earn his degree and live up to the promise he made his mom.
Little did he know by the time he graduated, he would make NCAA history in more than one sport and be on his way to the National Football League.
Rucker is currently in his second season with Ohio Wesleyan football as the team's special teams coordinator and defensive line coach. He returns to the Battling Bishops after spending 13 years coaching high school football in the Cincinnati area, which followed seven years in the NFL.
While attending OWU, Rucker made a name for himself in the athletics department. Besides being a three-time All-American in football and one of the "most dominant" defensive players the school has ever seen, he also participated in track and field as a thrower, winning four national championships while being named an All-American seven times.
Rucker found Ohio Wesleyan and then-head coach Mike Hollway with the help of his brother, and transferred soon after from a junior college back home in Illinois, which he attended for a year.
Rucker originally attended and played football for Eastern Michigan University, but because of some "poor choices," he ended up losing his football scholarship.
Athletic Director Roger Ingles was a member of the football staff as the team's wide receiver and tight end coach when Rucker made his first visit to campus. He recalls the coaches were expecting him, but didn't know his size alone was enough catch everyone's attention.
"We're sitting in his (Hollway's) office and all I remember is it was like someone turned the lights out because he walked in front of the doorway and he had to duck sideways to get in," Ingles said. "And he came in, and the first thing I knew someone was in the hallway because I saw coach Hollway's eyes get real big. I turn around and I saw this guy and I think this can't be who he is talking about."
Rucker was one of the biggest to play the game at the Division III level—measuring six feet, four inches and weighing 350 pounds, he was the largest defensive threat every time he stepped on the field while in college.
New school, new challenges
When Rucker attended Eastern Michigan, his world was football and football only. It was acceptable to miss class, he said, and the only thing he had to worry about was attending practice and games—he didn't have to be responsible for much else. Rucker said he faced favorable changes once at Ohio Wesleyan.
"I liked the small campus atmosphere," he said. "The academic setting was what was really impressive with me. On my first day at Eastern Michigan I walked into a lecture hall with 350 kids and the professor, I never saw his face, all he did was write on the chalkboard the whole time.
"Being here I knew it was going to be a big time management, had to be very organized. Being in a small campus environment with 20 to 35 kids in a classroom helped me regain that focus that I had in high school. I knew I was going to be held accountable."
Former track and field coach Marv Frye said when he first met Rucker, he knew the future All-American would face new differences in his academic campaign, but his mental outlook on things would be his best tool.
"I think he had some doubts in himself, but he has always had an upbeat attitude," Frye said. "He was now (at) a tougher school than before; he knew he had a challenge ahead of him."
Subtitle Related to Track
Although he had gone back to school to earn a degree and to enjoy another opportunity to play football, it didn't take long for the track and field coaches to find Rucker and get him on the team; and he just saw it as another activity to keep him occupied.
"Those guys (the coaches) took me in and saw something that I had and I could bring to the program…," Rucker said. "Coach Frye talked me into coming out for track. It gave me something to do other than just academics and there wasn't much to do in a small town as it was a lot less developed than it is now.
"I went out for track and the rest is history for how that went. But it also helped me get into better shape in order to still want to go out for football, so that's how I got back into football."
Rucker had thrown in high school so it wasn't new to him, but he joined during the indoor season, which he had never experienced. That didn't prove much of a challenge to him, though–he qualified for indoor nationals in the shot put on his first throw at his first meet.
"I threw it and they marked it, but they wouldn't move the marker," he said. "I was like, 'what are they doing?' This was just something I was doing for fun and it kind of helped me to be organized. Coach Cornell comes over and says, 'Congratulations kid, you just qualified to go to nationals,' and I'm like, 'Okay.' It was nothing big; I was having fun and I went on form there."
Rucker's national bid came to no surprise for his coaches. Frye said he knew it would happen; it was only a matter of when. There was also the issue of no one in the conference being able to challenge him.
"We expected him to do it; the question was, 'How good is he going to be and how much can he improve?'" Frye said. "Normally nationals is a different experience, you have to feel comfortable. No one challenged him in the NCAC, nationals was a different atmosphere altogether."
Rucker went on to earn fifth at nationals that year. His junior year he won shot put at indoor nationals and shot put and discus at outdoors. Rucker said competing at nationals was just like any other meet to him, he was just having fun. It was also about the people he met there.
"It was the same group of 16 or 20 guys at nationals; it became like a big inter-competition at nationals," he said. "We always got together and hung out, the coaches would go and the players would go. Those relationships I've built 20 some years, and I still have them. It was a friendly rivalry. We'd push each other and compete and then when it was over we'd go grab a bite to eat."
Rucker said competing in track and field, football and basketball, which he only did his senior year, was always fun. It gave him something to do in addition keeping up with his schoolwork and student teaching as he worked toward his career.
Rucker said he never felt stress to perform as he was always having fun. The only time he said he felt any pressure was after he won three championships his junior year.
However, Rucker never had the chance to defend his titles, as he was preoccupied with other tasks at hand.
Something, something, Football
Rucker became one of the best-known names in Division III football. The combination of his size and his attitude on the field made Rucker a force that all opposing teams noticed and respected. His coaches noticed his talent immediately and knew he had potential.
"He was a physical inside presence," said Pate Delany, the OWU football team's defensive coordinator. "He is a remarkable athlete, go down and watch him play racquetball. Still today, you can tell why he was an NFL talent, because of how great of an athlete he was.
"He played basketball here, he ran track just for fun, I think, or to look at girls. He has remarkable flexibility and he played hard… Keith probably was the most dominant Division III lineman in the history of Division III."
Rucker was the team's defensive tackle, lead run stopper and center of an already great defensive line. During the 1989 season, the defense held opposing teams to 189 yards rushing for the season, just 18.9 yards a game.
Rucker had received his first NFL offer by his junior year—the San Francisco 49ers invited him to join their practice squad. Rucker said after much debate and conversation with his brother, he decided to return to Ohio Wesleyan for his senior season.
That senior year may have made all the difference for the rest of his college career.
Rucker was named an All-American for the third year in a row and was invited to play in the Hula Bowl, the college senior all-star game, in Hawaii. He was the first Division III player to be invited to the event, which usually pulls the top 100 seniors from the Division I level.
The first play of the game, Rucker made a sack.
He followed up the performance by being one of the 310 players invited to the NFL Scouting Combine. There he continued to impress scouts, running a time of 4.9 seconds for the 40-yard dash, respectable for a player his size.
Despite getting calls from multiple NFL teams leading up to the draft, Rucker was not selected. Not to be disappointed, he talked to his agent who said multiple teams contacted him and were looking into him as a free agent.
Rucker headed back to Ohio Wesleyan not knowing whether he would get the chance to play in the NFL. Rucker said when he pulled off of Route 23 onto Sandusky Street, there was sign that said, "Keith Rucker is a Cardinal." His initial thought was, "did I miss myself get drafted?"
Without any knowledge of the agreement, Rucker's agent signed him with the Arizona Cardinals. He had determined the offer to be his best bet at getting into the NFL.
Although short on credits to earn his degree, Rucker earned the right to walk at graduation, which he passed up on as he had to report to Phoenix, Ariz., for mini-camp.
As a rookie heading into training camp, Rucker said he sat sixth on the depth chart at his position. Several weeks later, after the final preseason game, Rucker said he and his teammates waited in their hotel for a call as to whether or not they made the cut.
Rucker said after four hours of waiting, he finally decided to call his position coach to see when the cutting process would be over and if he made it.
All his coach had to say was, "Well if you haven't received a call by now… guess that means you've made the team."
The first few weeks of the regular season had its ups and downs for Rucker. He said he played two snaps in his first game on the field-blocking unit, was cut the night before the second game and ended up watching that game from his house.
The next week he was resigned a couple days before the Cardinals played the Washington Redskins. He recorded eight tackles and two sacks, and one week later they rearranged the entire defense to accommodate Rucker as a starter.
Over the next seven seasons Rucker played for the Cardinals, Cincinnati Bengals, Philadelphia Eagles, Washington Redskins and Kansas City Chiefs; he was a regular starter in his time with the Cardinals and Bengals.
Rucker said seven years into his NFL career, after not getting much playing time in his latter seasons and going through a divorce, he decided to retire.
The player becomes the coach
Following his retirement, Rucker decided to go back to school. He returned to Ohio Wesleyan to coach the football team and finish his degree.
After receiving his diploma, he moved to Cincinnati to be with his family and take a high school football assistant coaching position.
He said coaching is one of the things he has enjoyed most about his entire experience, which came full circle last year when he returned to Ohio Wesleyan football when head coach Tom Watts took the helm.
"There's a lot that I have enjoyed, but the biggest thing for me is to pass on that knowledge and those skills that I worked so hard to master to guys that when I was at the level they're at now, didn't have a clue," Rucker said. "I'm teaching them, and to watch them get it, that 'ah-ha' moment, you see the eyes light up and the (light) bulb go off. That's the biggest thing for me."
Being a celebrity on campus, Watts said Rucker brings a lot of experience and knowledge to the Bishops' football program. With hard work, dedication, organization and being a community and family man, he makes an impact.
"Obviously the players have a lot of respect for Keith, because he's been at all levels," Watts said. "Not only has he played at Ohio Wesleyan, he's played in the NFL, he's coached high school football, he's coaching our kids, so he has a lot of experience behind his years.
"He is a very good teacher and mentor. I think because people see him as a big guy, they think he's a loud guy, but he's not like that at all. He is very patient with the kids and he definitely has their respect or everything that he does."
Junior defensive end Brok Gould said he is a good person with a great personality who is always fun to be around and can make the guys laugh.
"I think that his experience of football in his career has helped him to become the great coach he is today and he will continue to help young athletes learn the values that go along with the game," he said.
Sophomore nose tackle Dominic Wilson said Rucker, or "Ruck" as they like to call him, is like a second father to him and the rest of the defensive line. He said Rucker has knowledge and passion for the game and makes practice fun, yet is diligent when it comes down to business.
"But don't let his fun, laid-back nature fool you. Coach Ruck tells it like it is," Wilson said. "If you missed an assignment or didn't play your role during a game, he's quick to tell you that you messed up but will give you tips on how to utilize your own personal strengths to be better on the next go-round.
"It's rare that he raises his voice, and the criticism that he gives you is genuine. He's always about uplifting us and making us better players and men in the future. Those characteristics explain why I have no problem going to battle for him."
That is exactly what Rucker is trying to do—make better players and men out of those he coaches. Rucker said one of the things he enjoys the most is sharing his stories from his time as a Bishop.
"(T)hat's something I'll have forever," he said. "And trying to get them to understand to relish in the moments they're going through with each other, because these guys have formed a bond for the rest of their lives. Those stories and that camaraderie I like to share because I want them to understand that this is just not a walk; this is a journey, and you're taking it with a bunch of guys, and some of you are taking the same steps.
"You're going to share it for the rest of your life, and you'll end up telling your kids about it. It's more so about the relationships you build here and I like to share that with them."
Coaching and being a father has become Rucker's priority in life. It's not known how much longer he will stay with the Bishops or if he will try to move up in the college coaching world. But he is here, and that is all that matters to the team for now.
Delaney said he thinks Rucker has done a great job coaching his players.
"He makes them accountable and he's fun," he said. "He laughs and jokes with them. The kids really like him a lot, and we're lucky to have him."
Frye has seen Rucker grow from the first time he stepped foot on campus. He said he is a joy to be around, always has a positive attitude and is willing to do anything asked of him.
"I think his upbeatness is reflecting in his coaching career," he said. "The kids like him, respect him and enjoy him. It's been a real pleasure to have him as an athlete and now as a friend."
If Rucker could sum up his athletic experience at Ohio Wesleyan in a few words, he would say, "It was fun and we made it fun.
"The academics are the number one reason to be here, but the athletics add so much more to that academic experience," he said.