Students out of hospitals after Monday night accident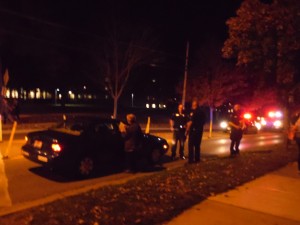 Updated Nov. 5, 2013, 9:06 p.m.
By Noah Manskar
Editor-in-Chief
Two Ohio Wesleyan students have been released from hospitalization after being struck by a car Monday evening.
Freshmen Gabriela Colmenares and Hector Rueda were hit crossing Liberty Street going east toward Rowland Avenue at 6:07 p.m., according to the Delaware Police Department crash report. The driver was OWU zoology professor Jed Burtt.
The report said Rueda was sent to Grady Memorial Hospital after sustaining non-incapacitating injuries; his witness statement said he was released later that night.
First responders took Colmenares to Grant Medical Center in Columbus to have her "incapacitating" injuries treated. Freshman Andrew Stock, Rueda's roommate, said she was also released from the hospital late last night.
Burtt said he had turned onto Liberty Street from Park Avenue and "wasn't going very fast."
Burtt's witness statement said the left front bumper of his car struck Colmenares, sending her "diagonally across the hood, hitting her head on the windshield."
In her witness statement in the police report, senior Lauren Foote said the car hit Rueda's knee and knocked him to the ground.
Rueda and Colmenares declined comment at the time of publication, as they continue to recover from their injuries.
Burtt said he did not see Rueda or Colmenares when they collided in front of Welch Hall, where he was on his way to conduct a review session for his students.
Because the Delaware Fire Department station was adjacent to the scene, Burtt said medics arrived around the same time he exited his vehicle. It was then he saw Rueda and picked up his glasses so they wouldn't be stepped on or crushed by an ambulance.
"I had too much adrenaline running through my system to be able to really help very well," Burtt said. "It was pretty terrifying…pretty awful."
Rueda's witness report said Burtt told him he was "so sorry."
Senior Samantha Rammaha called DPD after she heard about the incident. She said she saw people walking away from the scene when she arrived.
"I called it in because I wanted to make sure that they got help and were okay," she said.
Director of Public Safety Robert Wood said there have one or two cases of students being struck by cars annually in his eight years at OWU. He said several students were injured near Liberty and Rowland nine or 10 years ago.
Wood said PS and DPD will likely collaborate on potential "safety enhancements" to the intersection, which has no yield signs or speed bumps.
"That's a city street, so it's actually up to the city, and they have to go by the traffic code there, but I'm sure we'll be taking a look at it to see if there's anything we can add to reduce the risk of it happening again," he said.
DPD Sgt. Ramon Diaz said he worked with OWU officials on pedestrian safety, an issue in all kinds of schools, as a day shift officer. He said many pedestrians think they have ownership of the entire street once they step into a crosswalk, but the Ohio Revised Code says pedestrians only have the right of way in one lane at a time.
Diaz and Wood said the fact that it's getting dark earlier since daylight savings time ended may have contributed to the accident. Diaz encouraged students to use caution when crossing streets.
"You can be 100 percent right, but if you still get struck by a car, it's not a good place to be," he said.