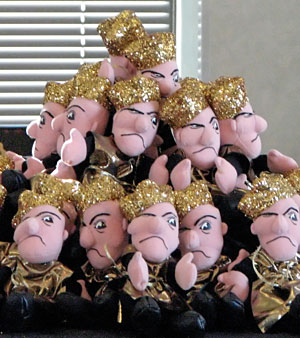 New award to honor former professor
Photo: Connect2OWU
This year the President Commission on Racial and Cultural Diversity has added the Guy Sarvis Award to the Golden Bishops celebration of achievements.
"The President's Commission on Racial and Cultural Diversity (PCORCD) is a group of faculty, staff, and students dedicated to promoting diversity and inclusivity at OWU," said Richelle Schrock, assistant professor of women and gender studies and chair of PCORCD.
"Each year we host educational programs and recognize OWU community members who make significant contributions towards these goals," she said.
This award was made possible by commencement speaker Stephen Ollendorff.
"Stephen and his family were profoundly impacted by the generosity of Dr. Guy Sarvis as they fled Nazi Germany to settle in the United States," Schrock said.
"Stephen has carried with him a sense of gratitude for this act of kindness and with the creation of this award seeks to honor and perpetuate Dr. Sarvis' memory and his values for the OWU community."
According to the criteria for the award, the student needs to show an understanding of different cultures and incorporate that into the OWU community.
This year's award will be presented April 12.