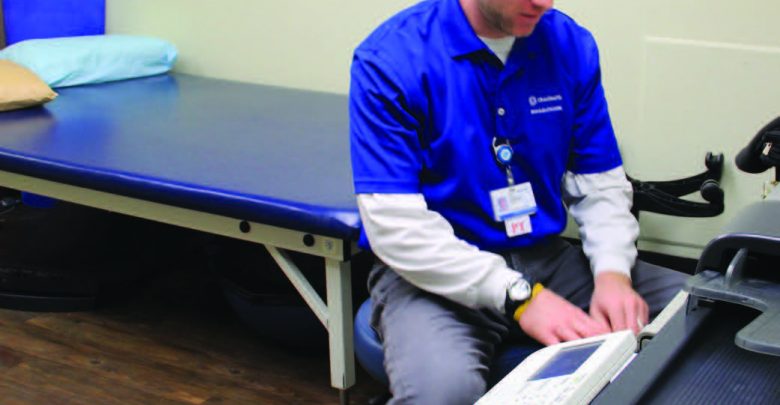 Welch facility brings physical therapy to students
OhioHealth physical therapist Jeremy Woods works in the Welch facility. Photo by Jane Suttmeier
Injured student athletes now have less ground to cover to receive treatment with the opening of a physical therapy facility in Welch Hall.
Ohio Wesleyan has partnered with OhioHealth to offer physical therapy on campus in a space across from the Arthur A. Belt Fitness Center rather than the off-campus site on South Franklin Street.
The Welch Hall space opened up when Chartwells Trattoria Pizza facility moved to Smith Hall.
A New Location
Levi Harrel, residential life coordinator for Welch Hall, said he thinks the facility's new location is positive for several reasons.
"First, it puts these medical professionals literally in the same facility where students live," he said. "Also, it is a big positive to be partnered with the OhioHealth department and enable them to have better access to their clientele."
The center underwent renovations during the fall semester before opening up to students.
Harrel said he is glad to see the former pizza kitchen and cafeteria occupied after being vacant for the 2012-2013 academic year.
"It is huge that the space is being used for student wellness, as I think that speaks to the dedication that OWU has overall in regards to student health here on campus," he said.
Craig Ullom, Vice President of Student Affairs, said staff from OhioHealth — which also has a strong relationship with OWU's Healthy Bishop initiative —  told him they were interested in moving to a smaller facility last year.
"After they told me that 98 percent of their patients are affiliated with Ohio Wesleyan, I offered them the possibility of leasing a space here on campus," he said.
OhioHealth has a three-year lease in Welch Hall and pays monthly rent to the university. OhioHealth also covered the renovation costs.
Feeling the Benefits
Freshman Summer Tompkins tore her ACL and meniscus, and after surgery in December she is working with the center to help her rehabilitation.
"The Welch physical therapy is a fundamental and necessary part of my recovery, and the ease of access makes my rehab less of a stressful and draining process," Tompkins said.
Both Harrel and Ullom said they have been hearing nothing but positive feedback from students like Tompkins since the facility opened.
While the center is available to any member of the community, most of the patients in need of treatment are those who have suffered an athletic injury.
According to Ullom, OhioHealth printed promotional posters for the university to distribute, but many on campus still aren't aware of the center's existence.
"Since it is still new and such a nuanced target audience, not many people are yet aware of it," Harrel said.
For Tompkins, treatment has helped her to grow as well as recover.
"The whole process taught me a lot about patience and perseverance," Tompkins said. "The physical therapy has helped me tremendously not only in my physical recovery, but with how I respond mentally too, So I'm pretty fond of the physical therapy here."