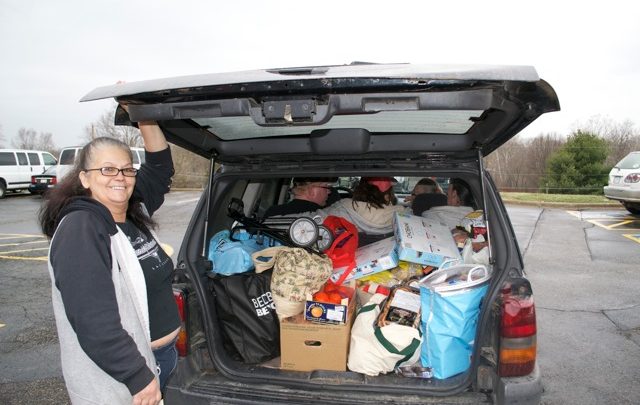 Mobile Food Market provides fresh produce to Delaware disadvantaged
"Numbers 93 to 100," called Sister Sandy, over a din of muffled voices. "Numbers 93 to 100, you are up."
The numbers refer to the order of individuals waiting to collect food during Mobile Food Market, held at Highpoint Church in Delaware.
Andrews House, a non-profit organization in Delaware, partners with the Mid-Ohio Foodbank twice a month to, "bring fresh food and groceries to individuals and families in communities where food access is limited," according to the Andrews House Website.
Liz Bowman, the operations manager at Andrews House, said each Mobile Market attracts around 200 families.
"Our largest turnout was in November of 2013, where we served 304 households at one market," she said. "In 2013, we served a total of 5,087 households and data collected at sign in was used to determine that based on the number of individuals in the households, we served 13,213 people in 2013."
Visitors at each Mobile Market are asked to sign in by noting their name, address, the total number of people in their household with a breakdown of their ages (0-17, 18-59, 60+).
They are then given a number based on the order they arrived in, and asked to wait in the church's recreation room.
Each Mobile Market, families begin arriving at the church hours before the noon start time.
Sister Sandy, an active community volunteer, calls out the numbers at the April 7 market.
"I do it because these people are just like me," she said. "They are hungry, just like me. I don't want anyone to slip through the cracks."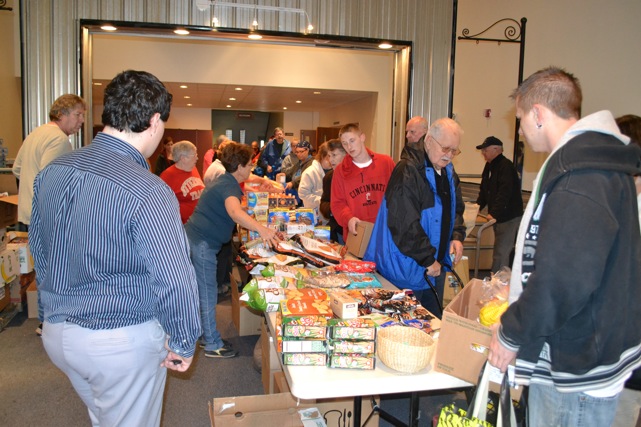 As a whole, Delaware is a relatively affluent county, with only 4.7 percent of households classified as living below the poverty level in 2013 (the lowest poverty rate in the state.)
However, Melinda Corroto, executive director of Andrews House, said around 18,000 people in Delaware County "have hunger as an issue."
"It could mean they miss a meal a day, or a meal a week," she said.
"But in general, food security is an issue for them and we see that as a great need for our community."
Many visitors indicate that they would not be able to make ends meet without the help they receive from the Mobile Market and other similar services.
Jerry Henderson and Ann Lesieur said they visit the Mobile Market twice a month.
"Since they reduced my food stamps to $15, I rely pretty heavily on this food," Lesieur said.
"Also, I'm diabetic and they make sure they have special food for me here."
David Braumiller, a self-proclaimed "Delaware landmark," said he comes twice a month to collect food for himself and his wife.
"The price of food makes it hard to get by," he said. "When a gallon of milk is more than a gallon of gas it's hard to chose which one to buy. I shouldn't have to chose."
The waiting area is filled with community members of all ages. Several individuals, also waiting for their numbers to be called, nodded in agreement with Braumiller.
Colleen Lilly, who used to work at the Thomson Store at Ohio Wesleyan, said she was collecting food for three families in addition to her own.
"Some of my neighbors just don't have transportation," she said.
"So I like to help out when I can."
According to their annual report, in the fiscal year 2013 the Mid-Ohio Foodbank distributed 48.6 million pounds of food and groceries, including 17.4 million pounds of fresh produce, among with the 20 counties and 550 organizations they serves.
Besides the Mobile Market, Corroto said Andrews House provides several additional services to the disadvantaged in the area including: a free summer lunch program for children; Grace Clinic, which offers free medical care for the uninsured weekly; and, a legal clinic, which provides free legal service for those who qualify.
"My favorite part of my job is getting to know the people in the community, from the volunteers to the people we serve and everyone in between," Corroto said.