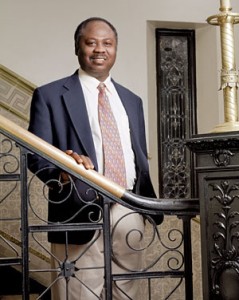 Professor honored for work about health law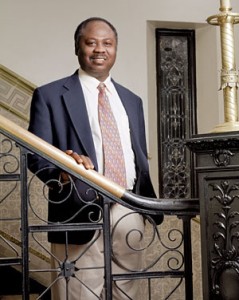 Randolph Quaye, the director of Black World Studies department at Ohio Wesleyan, was recently recognized for his research with the Affordable Care Act and his work as a reviewer for academic journals.
"We see a gap when we look at our health care system," Quaye said.
"We do have 15 percent of our population that are under insured, and based upon my own research I do feel like something has to be done to fill the gap."
Quaye began his research last year. When the proposal for the Affordable Care Act was initially made, Quaye said he thought it was something that would "not necessarily solve the problem" but open up new roads in expanding health care for those who are currently uninsured.
Quaye's research had two main goals. First, he wanted to gather information from physicians.
"In order for the system to work, you need to know where physicians stand in relation to the Affordable Care Act," he said.
He developed a survey and reached out to approximately 90 different physicians across Ohio, including the Columbus, Akron, Wooster and Cleveland areas.
Quaye said he had published a research on manage care involving Ohio physicians almost four years ago and wanted to see "what has changed" since then.
Additionally, he said he wanted to get a broader sense from physicians about whether in fact they have any view point on the Affordable Care Act.
He said one of his first questions to the physicians was to tell him something about the act.
"More often than not people use the word 'Obama care' and there seems to be some misunderstanding on whether Obama care is something different from the Affordable Care Act," Quaye said.
He wanted to see how knowledgeable people are about the specific provisions under the Affordable Care Act.
He also wanted to know what the physicians thought would be the impact of the act on their medical practice.
Results of the Research
"What I got from my analysis is that for primary physicians, they were really in favor of the Affordable Care Act because it allows them to increase their fees and because they will be in a position to put a lot of emphasis on preventative medicine, that seemed to go well for their profession," Quaye said.
"Specialists were not so enthusiastic," he said.
"Some of them felt it would erode their income, it would erode their professional autonomy because they would have to deal with a whole series of bureaucratic structures, so most of them were not really enthusiastic about it."
Quaye also said some of the physicians mentioned that this is a "very massive under taking that the government is engaged in," and the government has to ensure that there are enough doctors.
"If we expand in medicaid, which is really what the program is doing for those who are uninsured, the problem is, have we trained enough doctors to handle the volume that the Affordable Care Act is designed to provide," he said.
Quaye said he would have liked to have a larger sample size for his research.
Further, because he conducted his research during the summer, a large number of doctors were on vacation, and he didn't get as many responses as he might have in January or February.
"I also wanted to do something before the second elections so I was trying to get a sense of what people were saying about the Affordable Care Act," he said.
Quaye has been awarded the Outstanding Reviewer for Leadership in Health Services as a part of the Emerald Literati Network award for excellence. He won the same award two years ago.
He said his work as a reviewer involves reviewing articles for several journals—mostly in the health field—and for the past 2 years he has reviewed more than 20.
"Currently have I have two articles and what I do is read, make comments on research objectives, look at literature review, the methods that have been employed and the analysis and conclusion," he said.
Quaye then makes recommendations about whether each article should be published or needs some kind of revision.
He sends his comments to the editor and they get in touch with authors and then they revise it.
Some of the articles are then sent back to him and he then determines if the articles are ready for publication.
"I tend to be very thorough in my review and I think they liked that," he said.
Future Plans
Quaye said he has received a grant from OWU for another research in the upcoming summer.
He will be traveling to Sweden, Denmark and Norway to look at the changing status of medical profession in those three countries.
"I have a passion for addressing the broader issue of health whether in this country, Africa or Europe I've always been interested in knowing about what is happing in the health arena, lets say, global health in general," he said.
Quaye said he is also interested in having a Sagan National Colloquium "devoted on global health challenges so it's an opportunity to bring in experts from different disciplines to look at health from a global perspective."
"I like doing research and also I do teach an honors course on medical profession here," he said.
"So it's always good to update myself and see what is new in the area of health."