'OWU Better Together' a winner at Interfaith Youth Core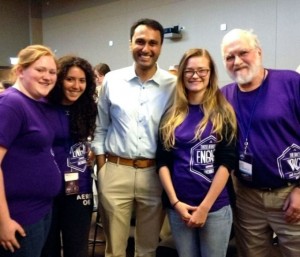 (From left to right) Senior Kelsey Gallaher, Myriem Ibourk '14, senior Katie Butt and Chaplin Jon Powers pose with Eboo Patel, the founder of the Interfaith Leadership Institute (center). Photo: OWU communications.
By Spenser Hickey
Managing Editor
Senior Katie Butt didn't know her club, Better Together, had won the Interfaith Youth Core's national "Best Overall Campaign" award until a few hours before the news was officially released.
"When I found out the first thing that I thought of was going back to when I first started this group," she said.
OWU Better Together was founded two years ago by Butt, who'd been inspired by an interfaith focused spring break mission trip her freshman year.
"I worked with the Interfaith Youth Core doing interfaith relations work and also learning about urban poverty," Butt said. "And so that following summer I also went to Washington, D.C. for the President's Interfaith Community Service Campus Challenge and so I got really wrapped up in interfaith work."
OWU Better Together won for their work on promoting food justice, which according to Butt is "the idea that it's a basic right of all humans to have access to food."
"Out of a student body of 1850, (OWU Better Together) engaged 1,300 students in over 40,000 hours of community service," the judges said.
A key part in their food justice campaign was the Hunger Banquet, held April 17, 2014.
"The hunger banquet is this banquet that's made for 100 people and it's meant to show food inequalities globally," Butt said.
The banquet reproduces global food inequality by offering participants with one of three options at random, ranging from a three course meal with seats for the upper class to rice and water with no seats for the lower income class, according to Butt.
Rachel Vinciguerra '14, a member of Better Together and Interfaith House resident, said the banquet also helped combat hunger in Delaware in addition to raising awareness of national and global hunger.
"We raised money and food points," she said.
Butt said they donated the money to FEED, a local organization, and gave food points to students who didn't have them; in total they raised more than $1,000 worth.
While Butt liked the work Better Together has done on food justice, she said she hopes the club will continue to promote religious tolerance when she is no longer acting as the president. Butt said that as long as religious tolerance is at the organization's core, she will be satisfied with whatever other directions the club might take.
"My ultimate goal is just that in a world where religion is such a point of conflict…is to foster a community where that's not an issue," she said.
"…We can create an open dialogue about this, so that hatred and bigotry isn't an issue any more. As long as Better Together is still creating a safe space for people of all religious and non-religious values, that's all I can hope for."