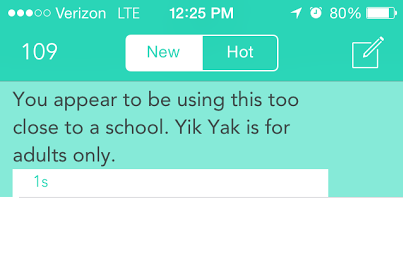 Taking the good with the bad on Yik Yak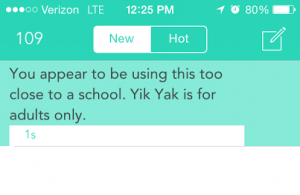 Does OWU's new social media infatuation bring students together or rip them apart?
By Ellin Youse and Miranda Anthony
Editor-in-Chief and Transcript Reporter
If it's happening at Ohio Wesleyan, chances are it's being talked about on Yik Yak.
The app is the newest craze in social media as well as the latest trend in anonymous OWU forums, following the likes of OWU Confessions Facebook Page and the OWU Crushes and OWU Creeper Twitter pages.
"Share your thoughts, keep your privacy," Yik Yak boasts on its homepage. The app allows users to "yak" a post up to 200 characters long anonymously. Users can "upvote" or "downvote" other yaks, and because of the constant posting and downvoting of other yaks, the posts usually don't stay up for long. If a yak gets -5 downvotes, Yik Yak automatically removes it.
Launched in January 2014, the app has gained national recognition as one of the fastest growing social me- dia companies in the United States and is now being used by over 25,000 people on over 250 U.S. college campuses.
The anonymity of Yik Yak makes the app stand out in a world where any post on Twitter, Facebook or Instagram can haunt the author even after a post is taken off its respected site. Users of social media are conditioned to believe that anything they post can follow them forever with a single screenshot, but Yik Yak solves that problem. By allowing authors complete privacy, people can say what- ever they want about what- ever or whomever they want, without repercussion.
The app's anonymity feature comes with some controversy. The app blocks users from posting if they are near middle and high schools in an effort to avoid cyber bullying. One of Yik Yak's co-founders, who refuses to reveal his or her identity to the public, said in a press release this March that the app is designed with college campuses in mind.
"We created Yik Yak to give college students a private platform for communicating with their entire campus," said the unnamed Yik Yak cofounder. "Yakkers have used the app to find a place to crash, report lost and found items and alert other students about deals at nearby bars."
Campus controversy
While it may be a great resource for lost freshmen and bored seniors, the app has caused serious issues for many schools, college campuses included.
At Emory & Henry college in Virginia, for example, school administrators responded seriously to a death threat against freshmen posted on Yik Yak. In Mobile, Ala. a 14-year-old and a 16-year-old were arrested for threatening posts on the site, and according to the Los Angeles Times, at least four Chicago-area high schools warned parents about Yik Yak, urging them to delete the app from their children's phones.
OWU Yaks
OWU has been climbing the ranks of the Yik Yak universe in the past weeks, making it to the site's "peek" page, which allows users from all over the nation to read the yaks happening on OWU's campus.
"My opinion of Yik Yak, initially, was that it was funny and that I kind of learned about the campus, but then I started seeing all of these negative comments: mean things about fraternities and about things freshmen do," freshman Mac Willard said. "People were saying some pretty rude stuff, so I deleted it."
OWU Greek life has been implicated as well, with posts frequently mentioning the Phi Delta Theta and Sigma Phi Epsilon fraternities and the Delta Gamma and Delta Delta Delta sororities.
Students have spoken out about the app via yaks, posting about the positives the app brings to the student community. In one yak, a student contemplating suicide was encouraged by classmates to seek counseling. Many posts are also about where students can go to find parties, and even more are jokes.
"Most of Yik Yak is really stupid, like 75 percent," said sophomore Aletta Doran. "Most of what you read just doesn't make a lot of sense, but there are some good things about it. There have been several instances where people have said 'I want to commit suicide, I need help,' and everybody dropped all the bullshit and supported each other."
For senior Ibrahim Saeed, the app provides campus with a "collective consciousness." While Saeed said he thinks there have been dark moments for OWU's Yik Yak, he said the app will improve with time.
"I feel that the more people adopt Yik Yak, the better it will represent Ohio Wesleyan," he said. "…(T)he OWU based Yik Yak users have been pretty good about down-voting things that shouldn't be there, which removes it forever. I think the goal of the app is to let people feel a part of the greater community and it does accomplish that to an extent."
But it's not all warm and fuzzy. Jokes at the expense of minority racial communities on campus have been frequenting the app, with yaks saying things like, "Black people are poor," "HBC (the House of Black Culture) looking like a crack house," and "All Asians flock together."
Senior Khristina Gardner, moderator of the House of Black Culture, said she would "much rather sit back and keep an eye on the things that are being said from afar" than address the problem directly on the app.
"When I read the comments on Yik Yak that were geared towards the House of Black Culture as well as to black people in general, it really had me thinking – especially when I woke up the next morning," she said. "I became uneasy all of a sudden because of the fact that Yik Yak is anonymous and that it could have been anyone at OWU. I could walk past them everyday on campus and not even know that it was them that posted such hateful things."
Gardner added that the comments on Yik Yak about her home and comments on race in general say "a lot more about them (the posts' authors) than they do about me."
"There is way too much ignorance being practiced on OWU's campus and it is not my job to necessarily correct it, especially when there are more than enough opportunities on and off campus to get educated about the things that make us different from one another," she said.