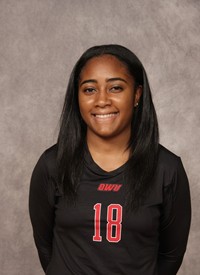 A Q&A with Brianna LaCroix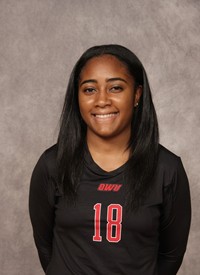 OWU women's volleyball is curently sitting 2-2 in NCAC play 12-5 overall. First-year head coach Kirsta Cobb has the team playing on a different level. Freshman Brianna LaCroix is part of the reason, with her team-leading 166 kills.
The Transcript: How has your experience at OWU and with the team as a freshman been so far?
Brianna La Croix: My experience at OWU has been amazing so far. The transition from a California girl to Mid West girl has been easier then I thought. My volleyball family has made everything a lot easier with how supportive they have been through the process of being a student athlete.
T: What is that is making you guys so successful right now?
BL: I believe that everyday in practice we strive to attain our team goal which is to inspire each other on and off the court, be a close knit family, and trying to achieve our overall goal of being a new and improved volleyball program. Coming from my position I believe that we all share a connection with one another, which pushes us to work hard for one another to be one unit.
T: What has Coach Cobb done to help the team to this point?
BL: Coach Cobb has turned the OWU Volleyball program around and her work ethnic has rubbed off on us to continue to prove that we are becoming a force to be reckoned with.