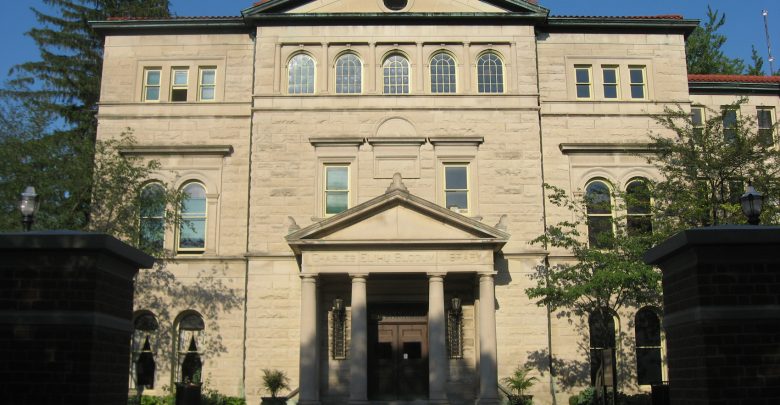 Fundraising central topic at faculty meeting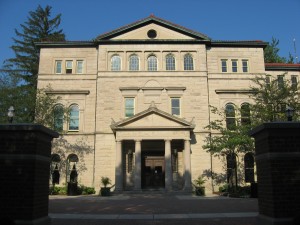 Ohio Wesleyan has not done a great job of keeping parents and alumni involved and connected to the university, according to the vice president for university advancement Colleen Garland.
That has to change and will change, Garland told faculty at their monthly meeting Monday, if the university is to raise an ambitious $200 million over the next seven years.
"Connect today, create tomorrow" is the newly minted logo for the fundraising campaign, which the Ohio Wesleyan Board of Trustees approved earlier this month.
Garland said Ohio Wesleyan's fundraising  improved over the last few years. On average, the university receives about $15 million in cash yearly, but raised more than $22 million during the most recent fiscal year.
However, Garland emphasized emphasized that giving goes up and down.
"We have had a terrific couple of years," she said. "We are working very hard to maintain this momentum."
Prior to settling on the $200 million goal, trustees asked for a "feasibility study" by an outside consultant to examine fundraising objectives.
The consultant interviewed about 50 of OWU's likely donors at the highest potential donation levels to "test the funding objectives as well as the overall dollar amount," while "probing each individual they interviewed for that person's projected donation to the campaign," Garland said.
The consultant's  report recommended a goal between the $180 million to $210 million. The report was presented to the trustees in May, but the $200 million campaign goal wasn't settled on until earlier this month.
The report also suggested a split between types of donations, aiming for 75 percent in outright giving, with 25 percent coming from planned, or estate, donations. In the past, OWU heavily depended on estate gifts, Garland said, which was a reflection of the economy at the time. However, as the campaign proceeds, Garland said her office is looking "for something a little more aggressive" in terms of outright giving.
Garland also said in her report that there is no magic formula for determining a campaign goal, "but there are a few benchmarks you look at."
One key benchmark is trustee giving as a percentage of the total. According to Garland, a minimum of 25 percent of the total goal should come from the Board, adding that at some schools that number is as high as 40 percent.
Garland said another important consideration is the wealth of the prospect pool. Reflecting on a screening of all of the alumni and parents in OWU's "prospect pool," Garland said the results are "very, very promising."
"We feel very confident that we have the wealth in our prospect pool to raise this kind of money," she said. The challenge will be to get people more involved and connected to the university.
"Most of these are people who have had almost no relationship with Ohio Wesleyan since their graduation," she said.
Despite this, Garland said the trustees are very inspired from the campaign's progress to date. According to Garland, "reach back gifts" from projects currently ongoing are included in the total funds raised, including the Merrick Hall and Edwards Gym projects. Consequently, OWU already has $47 million toward the $200 million dollar goal.
Additionally, Garland shared news of gifts that haven't yet been booked. A couple, who wishes to remain anonymous, donated enough money to leverage up to 12 matching gifts of $250,000 or more. As of now, five of the 12 are already spoken for, Garland said.  Two donors who graduated in the 2000s made commitments of $200,000 each.
"I'm not sure if that's ever been done before," Garland said.
Going ahead with $200 million goal over seven years will result in a three-year "quiet phase" or "leadership phase" where Garland's office focuses its efforts on gifts at the highest levels.
"When we are ready to move into the public phase [the fourth year] we want to be at around $125 million before doing so," she said. "If we are wildly successful, which is certainly possible, then we will reexamine that $200 million number and determine if that is the best we can do or might we reconsider."
She said the campaign will require the hiring of five additional employees for her office for at least seven years.  The university is in a hiring freeze and is even exploring whether there should cuts in the number of faculty and staff positions because of declining enrollment.
Garland said she appreciates that adding to her staff  is a sensitive issue, but said funding for these positions will come from unrestricted bequests rather than the university's operating budget.
Also at the faculty meeting:
The Faculty Personnel Committee provided proposed changes to the faculty handbook regarding promotions, tenure, probationary periods, merit pay and post-tenure feedback for faculty.
President Rock Jones highlighted admissions statistics for the year saying there's been a slight increase in visits and applications to date, as compared to a year ago.
Jones also said newly admitted students indicated the top three categories of "most important" concern are the quality of their major, cost and outcome or job prospects of their education.
As a result, the Office of Admissions is looking at changing visiting programs to allow for more students to meet individually with faculty to help them better understand the quality of majors. In terms of marketing, there also will be a larger push to share post-graduate success stories with admitted students.
The faulty approved adding two courses to OWU's catalog: a Poverty, Equity and Social Justice Course Connection capstone seminar, and Psychology and the Law.