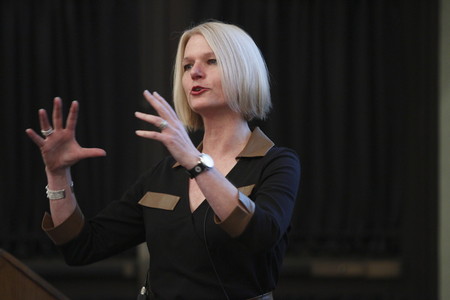 Winbigler discusses education, entertainment, digital media trends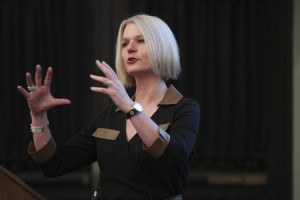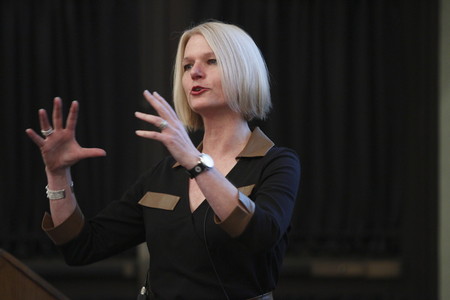 The trends in digital media present both an opportunity and a challenge to the National Geographic Society (NG) based off of last Thursday's Milligan Leaders in Business Lecture Series featuring Tracie Winbigler.
Winbigler ('87) earned her bachelor's degree at Ohio Wesleyan in economics concentrating in management. Following that, Winbigler began her career working for General Electric and NBC.
The series opened with remarks from university president Rock Jones. In addition to the history behind the Milligan Lecture Series, Jones noted the opportunity afforded to students in receiving a liberal arts education in the exemplification of Winbigler's career in the business and non-profit sectors.
"I think in particular for students, it's good to realize that in both of these sectors [there is] important, life-changing work for the common good and Tracie exemplifies that," Jones saud.
Winbigler was formally introduced by professor of economics Bob Gitter,  as he was Winbigler's former professor. Wingbigler attributes the start of her career at GE to Gitter, who encouraged her to sign up for their finance management program when she was a senior at OWU.
"It is one of the greatest joys of my job to see the success of the students that have returned to Ohio Wesleyan," Gitter said, "It was just a joy to work with [Winbigler], to watch her grow in her time at Ohio Wesleyan, and to see how she's continued to grow throughout the years."
The presentation opened with the mission statement and description as to what the National Geographic Society is, and Winbigler's role in the publication.
"We have a lot of media assets that support our not-for-profit business and so it's an engine," Winbigler said, "We have a lot of storytelling assets and the way the machine works is we make profit from the storytelling assets to feed the not-for-profit side of grants and educational activities globally."
The lecture consisted of certain trends being noticed in the digital media and their effect on the business both in NG and beyond. Winbigler mainly used graphs and charts to illustrate the ebb and flow of certain mediums of media including the big four—TV, radio, newspapers, and magazines—in profits and advertising.
Winbigler expressed the need for NG and other media outlets to reorient their marketing pitch to consumers to stay on the radar in the Digital Age. She illustrated NG's efforts to this effect by means of creating a more interactive online periodical and website through sending Instagram photos directly to NG's account to see if they get posted.
There are also ideas to create online levels of memberships/subscriptions to the website with different amounts of packages being granted to certain member groups.
With that in mind, she noted the difficulty NG has in reaching the age group of late teens, early 20s people—a problem many digital media companies do not have. There is also a need for balancing the education and entertainment aspects of the company.
"Being a joint venture with Fox, that's one of the most interesting balancing acts we have to make. Fox wants ratings. They're a commercial entity," Winbigler said in a later interview.
"What we're trying to do is work with the channel to get a little more on-brand [more educational, documentary-style shows]."