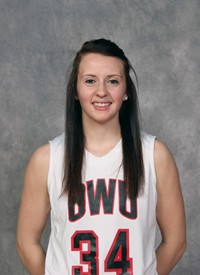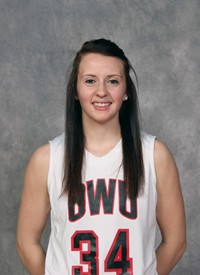 Senior Caroline Welker, a key member of the OWU women's basketball team, was hit by a Delaware Police Department car last Thanksgiving while crossing Central Avenue. The officer driving the vehicle, Mark Jackson, was charged with a $135 fine without a court appearance. He was going 15 MPH when he struck Welker, and was involved in another on-duty accident two days before.
The accident gave her a concussion and is still keeping her out of the game. However, Welker is sitting on the bench again after missing five games this season, on top of the entire season she missed last year.
While she thought she was making progress, she began to feel serious symptoms of her concussion on a hot summer day in June.
"I felt awful, I could barely do a workout without passing out," Welker said.  "It was pretty scary."
Treatments and medication did not seem to be keeping her symptoms at bay. She was already given shots in the back of her head that failed to provide any relief, and if therapy continues to show no improvements, shots to her spine are next on the list.
"It's different than spraining an ankle or tearing an ACL," Welker said.  "Those suck, but sometimes I can't physically sit there because I'm in so much pain."
Occasionally, when the pain is really high, sleeping is the only thing that helps Welker get through it.
She is being held out of the beginning of the season and her symptoms do not fade anytime soon, her time on the bench may turn into her whole senior season.
"It's been really hard because I haven't been able to do any preseason stuff with my teammates," Welker said.  "I just keep telling myself I could be worse off, that kind of keeps me going."
Even though watching from the sideline "tears her up inside," she still goes to every practice, team workout and game to support her teammates.
"I think I've done a good job of being supportive of my teammates and being positive," Welker said.  "I think I help give a lot of energy from the bench."
Sarah McQuade, Welker's teammate and fellow senior is thrilled to have Welker on the court, even if it is just watching from the sideline.
"We use her as an example to not take a day or rep off because one day your chance to play might be gone and others would die to be in the position, including (Welker),"  McQuade said.
"We always tell her that we love her and are lucky to be apart of her recovery."
If everything works out and Welker is able to return to the court before her senior season comes to an end, ecstatic would be an understatement.
"It would be the best thing ever if I could play," Welker said.  "I'm being positive but I'm also being realistic so if I'm told I'm not playing again I've prepared myself."
Welker knows the importance of her positive attitude and continues to keep her spirits high even through these tough times.
"I try to be positive, if I had a negative attitude it probably would be 20 times worse," Welker said.  "There's a lot of things to be thankful for, obviously it's still hard, but I'm really lucky in the end."