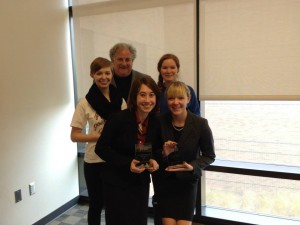 Ohio Wesleyan Moot Court teams have a history of excelling in competition, and this fall the story was no different. Two rounds of qualifiers were held in November, and OWU was the only school to have all teams qualify to the second round of regionals.
Ten teams of two people traveled to Saginaw, Michigan and/or Wooster, Ohio to compete in the regional stage of the mock constitutional case completion. Each pair receives a case in the beginning of the year that surrounds two issues. This year, the issues were First Amendment and Equal Protection.
Partners have to craft arguments both for the state and the citizen. Seniors Liam Dennigan and Memme Onwudiwe were one of OWU's teams.
Both said they found it a valuable experience.
"I really enjoyed it," Dennigan said.
Onwudiwe agreed, stating: "Going to Michigan and competing against all these other teams from other schools was great."
"Last year we went to nationals, and I think it really helped me with my presentation skills," Dennigan said. "It gave me the ability to react quickly and respond in a clear and concise way. It is probably the most intellectually stimulating program on campus."
Andrew Paik '14 went to Nationals last year in his last semester. He now attends Law School at Harvard. Paik shared Dennigan's sentiments.
"Nothing prepared me more for law school," he said.
While the Dennigan/Onwudiwe pair was eliminated in the second day of regionals, two OWU team made it to nationals.
Junior pair Katherine Berger and Rhiannon Herbert, and senior pair Jordan Bernstein and Lidia Mowad are going to represent the Bishops in Miami, Florida, at the national tournament in February of 2015.This is the third straight year OWU has sent at least one team to the national tournament.
Each year, OWU teams improved their performances. In 2015, Bernstein/Mowad and Berger/Herbert will be trying to place higher than 33rd overall, achieved by the Dennigan/Onwudiwe duo in May 2014.
Mowad said they are up for the challenge.
"I'm excited that my partner, Jordan Bernstein, and I are the underdogs," she said. "This was our first year doing Moot Court. We never expected such success, but the thrill of being an unknown threat at Nationals in Miami is exhilarating."
Bernstien said she is excited to continue on in the competition.
"My favorite part of Moot Court is reading the precedents and then applying them to our current cases," she said. "It is fun to see the language that the justices use, especially the snark at each other."