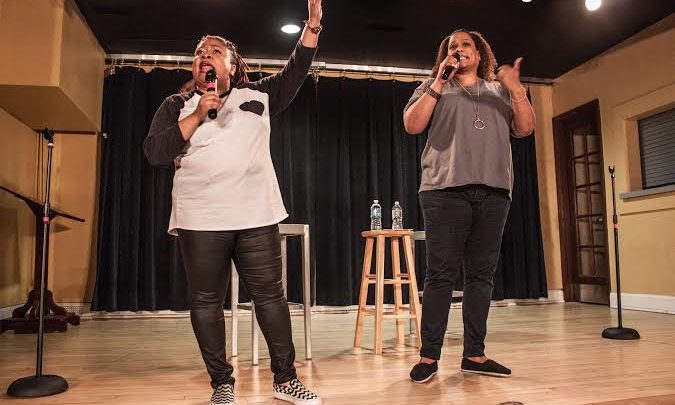 Comedy duo draws laughs from OWU students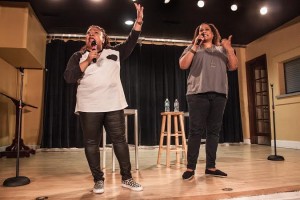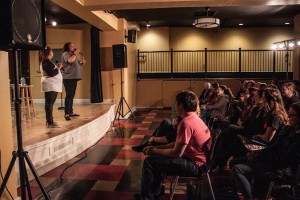 The stand-up comedy duo Frangela had many Ohio Wesleyan University students cheering and laughing at their Jan. 21 performance.
Levi Harrel, co-adviser for the Campus Planning Board (CPB), said there were more than 70 students in attendance.
"Student feedback from the event was overwhelmingly positive," Harrel said.
Some students, like senior Ibrahim Urooj-Santana, said they were nervous that Frangela would fail to draw laughs from the crowd, recalling the reception of the last comedian to perform on campus in 2012.
"I was worried this wasn't going to be good at all, but it was actually really funny," Urooj-Santana said.
Harrel said that he saw the duo perform at the National Association of Campus Activities Mid-America conference in November.
"We saw them perform, and we just knew we wanted them to perform at OWU," Harrel said.
According to Frangela's website, "Frances Callier and Angela V. Shelton are real life best friends who talk to each other all day long. This used to be more convenient when Angela lived upstairs from Frances in Chicago when they met at the world famous Second City Theatre, where they polished their talents as writers and comedy satirists."
Callier and Shelton have appeared on various television and radio shows together and as separate acts. Such shows include NBC's I'm A Celebrity Get Me Out of Here, Twentieth Century Fox's Wedlock or Deadlock and VH1's Best Week Ever. They've also appeared as "Pop Cultural Pundits" on NBC's The Today Show and Dateline, Fox's Mike and Juliet Show, CNN's Showbiz Tonight and Headline News.
Nathan LaFrombois, co-president internal of CPB, said the board's next event will be a Guardians of the Galaxy screening on Jan. 29.