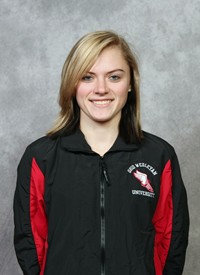 Ohio Wesleyan freshman exceeds expectations and leaps past competition to stand out at the OWU Triangular track meet on Friday.
Emily Brown, a freshman from New Concord, Ohio, won the long jump, 200-meter race and played a part in the 800-meter relay victory at the event in Gordon Field House. Brown completed the 200-meter dash with a time of 27.69 seconds and jumped 5.15 meters to win in the long jump.
"Long jump is my absolute favorite," Brown said.  "I've just always liked it and it's my best event."
Coach Kris Boey was pleased with Brown's performance as well as the team's, especially after a long break from training.
"Emily is off to an outstanding start, but the best is yet to come for her," Boey said.  "The same can be said for our team as a whole."
College coaches contacted Brown at the end of her junior year of high school. That is when she became interested in OWU.
"When I came to visit, I liked how the team actually came together and was more of a family," Brown said. "I liked the environment."
Teammate Amy Greenwood, a junior, sees the potential in Brown.
"[Brown] had a personal record at her first collegiate meet," Greenwood said. "She has a good shot to break some school records."
Even as a freshman, Brown has some impressive goals for the rest of the season. "I want to (personal record) in everything," she said. "At least get better after each meet."
But having personal records alone is not enough for Brown. She also has visions for her team's success.
"Our seniors this year are going for the grand slam for the fourth time," Brown said. "That would be pretty cool."
A grand slam is achieved when the team wins both indoor and outdoor conferences and all the events in Ohio.