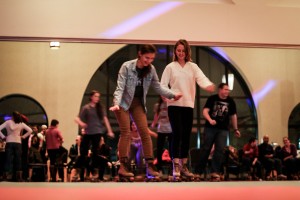 On Friday, Feb. 13, the Campus Planning Board (CPB) installed a makeshift roller rink over the entire Benes room floor.
The event lasted from 7-10 p.m. It addition to the rink (supplied by Neon Entertainment), CPB offered alpha art, food and beverages.
The indoor roller rink is one of several events hosted by CPB of late. Other events include movie screenings, the CPB coffee house, and a live show featuring comedy duo Frangela.
"It's been a lot of work doing all of the events," said junior Nathan LaFrombois, president-internal for CPB. "We've never had this many events in such a short amount of time."
As students entered the event they were greeted by the sound of music, disco-style lighting and a waiver form that had to be signed before rollerblading was permitted.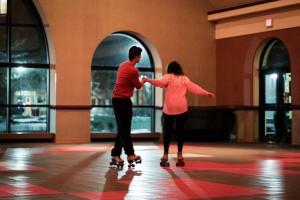 "When you walk in, it (the roller rink) kind of looks like Legos," said sophomore and director of entertainment for CPB, Maddie Oslejsek. "It was easy to set up and will be easy to take down."
For those in attendance that may not have wanted to rollerblade the entire time, alpha art offered an alternative form of entertainment.
Alpha art gives students the option to spell out their name – or anything they might want to spell – using different colors, shapes, objects and lettering.
"Last time we did the roller rink we had the issue of not enough skates or space for everyone to be active, so we tried to find some small, fun thing for people to do," LaFrombois said. "We sort of tacked this (alpha art) on as an addition so people could always be entertained."
Oslejsek furthered that point by suggesting that any alpha-art creations would be a great gift for Valentine's Day.