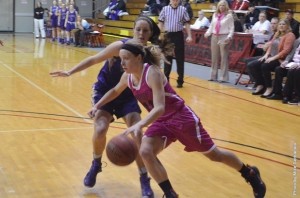 The win against Kenyon for the Ohio Wesleyan University women's basketball team was a win for women everywhere.
With the women's soccer, rugby and softball teams in attendance, the women's basketball team defeated NCAC rivals Kenyon 75-71 on National Girls and Women in Sports Day last Saturday, Feb. 7.
The win pushed the Battling Bishops' overall record to 11-11 and their conference record to 8-6.
Senior LaNiece McRae had a game high with 23 points and sophomore guard Megan Kuether crucially connected on four free throws in the last minute to put away the Lords and add to her career-high 22 points.
"It felt great to get the win, especially since all the other women's teams were there supporting us," Kuether said. "The win felt bigger and more exciting because of all the support for (National Girls and Women in Sports Day)."
According to the Women's Sports Foundation website, this year marks the 29th National Girls and Women in Sports Day. The theme of the day was the reduction of concussions in female student-athletes, something that the website reports as a major concern "among female athletes at both the collegiate and high school levels."
The website also suggests "there is evidence of gender differences in the outcomes of concussions, with evidence suggesting that female athletes present more concussion symptoms acutely, take a longer period to recover from concussions and report a greater number of and more prolonged post-concussion symptoms than male athletes."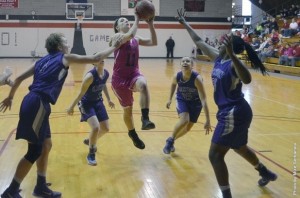 OWU women's basketball beat Allegheny 58-56 in a thriller last Saturday and now looks toward proving themselves further in the NCAC tournament.
"We will keep working hard in practice as a team and committing to defense which helped us the past few games," Kuether said. "Hopefully it will help us peak for the tournament."
The 8-6 NCAC record has the Bishops sitting fifth in the conference with two remaining games against Oberlin and DePauw. Oberlin is third in the conference with a 10-4 record and DePauw is first at 15-0.
Last year, the women defeated DePauw in the last game of the season to give the Tigers their only conference lost.