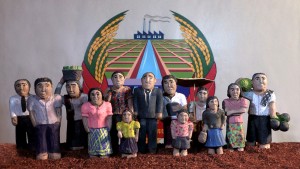 Clay figures typically do not come to mind when the word documentary is mentioned.
The Missing Picture, nominated for the best foreign language film at the 2014 Academy Awards, was shown at the Strand Theater April 21-22 as a part of the 2015 Community Film Series.
The series is sponsored by the Ohio Wesleyan English department. Professors Lynette Carpenter and Martin Hipsky make the decision of which films will be screened each year.
The documentary – which uses clay figures to fill in for missing or destroyed footage – focuses on the horrible conditions Cambodians faced at work camps under the rule of the Khmer Rouge from 1975-1979. A total of one third of the population died under the dictatorship.
"I was looking for an East Asian film and this one I thought would be particularly useful for students to study because it's so experimental," Carpenter said.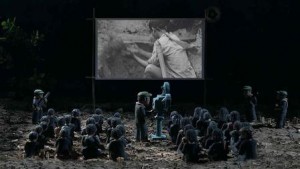 Students are not the only ones to go to the screenings. Many residents of Delaware have also attended.
"Honestly I wish more people would come because they're great films," said junior Joe Pileski. "They're not things (films) that really get advertised in the normal cinema cycle."
The Missing Picture was directed by Rithy Panh who suffered through Khmer Rouge rule with his family. Panh was able to escape to Thailand and today is considered one of Cambodia's most talented directors.
"It was very interesting… animation superimposed on real images," said junior Emily Webb.
Panh and his crew who helped work on the film created hundreds of little clay figures and then proceeded to move them to different, recreated sets that resembled Cambodia's rice fields, work camps and cities.
"It also illustrates the difference perhaps between our assumptions about film making and what it's actually intended to do and how other cultures see film making," Carpenter said.
The final film of the 2015 Community Film Series, Sex, Lies and Videotape, directed by Steven Soderbergh, will be shown April 28-29.