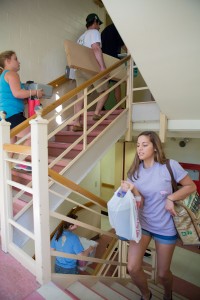 After much anticipation and preparation, the class of 2019 has finally arrived.
Continuing the tradition of welcoming freshmen to campus, Ohio Wesleyan students called on the Greek community to organize and assist with move­-in day.
"I love move-­in day," said senior associate director of admission Patricia "Pat" Kelly. "It's such an exciting time, and it's my favorite time of the year because it's when I get to see freshmen settle into their home away from home."
Since then, organizations like the Campus Programming Board and the office of Residential Life have been staging orientation activities, free events and socials exclusively for freshmen.
Although statistical information about the class of 2019 was not available when this article was written, convocation data suggests an actively involved freshman class.
Specifically, the class of 2019 comprises 267 varsity athletes, 117 varsity sport captains, 92 high school musicians and 224 students who participated in community service and volunteer work.
Christopher Bonner, a freshman from Parma, Ohio, falls into one of those categories. "I chose OWU because my football coach at Valley Forge High said great things about it, and I visited and loved it, too," he said.
In an attempt to combat low enrollment, this summer, OWU expanded its publications, developed its website and hired a new marketing firm to design banners that currently line campus walkways.
"The reason we are developing all of this is to develop a better way to share the OWU connection," said Director of Admissions Alisha Couch.
No matter how the numbers turn out, or what the banners look like, the freshmen are here to stay.