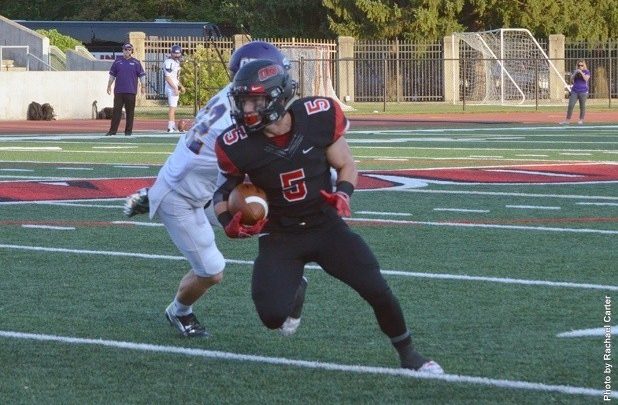 Battling Bishops lose season opener
By: Gopika Nair, Assistant Copy Editor
The Ohio Wesleyan football team lost their season opener before a home audience to the University of Mary Hardin­Baylor (UMHB) 42­3.
The Crusaders' victory on Sept. 5 at Selby Stadium marks the visiting team's 55th consecutive regular­ season win, while the Battling Bishops start 0­1 this year.
"You win some, you lose some," said sophomore Jerry Harper, a cornerback for OWU. "We just have to stick together as a family, not let this loss get to us and continue on forward."
The Crusaders scored their first touchdown with about three minutes remaining in the first quarter, giving them a 7­0 lead.
Wide receiver Tim Shadoan, a junior, earned OWU three points with a 40­yard field goal a few seconds into the second quarter. But going into the half, UMHB increased its lead, 14­3.
By the third quarter, supporters of the Battling Bishops grew restless. Cheers of, "Let's go OWU!" and "Come on, get a touchdown!" roared from the stands.
UMHB, however, added field goals of 40 and 33 yards in the third quarter. Putting up a fight, OWU's senior end Cameron Pappa, a senior, led the defense in tackles. Sharing the lead was junior linebacker Keaton Leppla, who intercepted one pass and broke up another.
With less than five minutes remaining in the fourth quarter, the Crusaders brought up their score with a touchdown. The score remained at 42­3 for the rest of the game.
Sophomore Rene Garcia, a spectator, said the game was rough, but OWU's football team has a lot of potential.
Another sophomore, Drew Singleton, said, "Every loss is a tough loss. But you [just have to] take this game, learn from it and get it next time."
OWU's football team reported to camp on Aug. 12 and have been training ever since, said Coach Tom Watts.
Camp consisted of practice in the morning, meetings in the afternoon and bonding activities to develop team chemistry at night, Watts said.
Captain Beau Michele, junior, said it was often difficult to get through practices but they helped strengthen the team.
"To beat the best, you have to be the best," Michele said.
OWU is predicted to place fourth in the North Coast Athletic Conference.
"We will place where we deserve based on how hard we work throughout the season," Watts said. "The conference is tough, and we are excited about the season. We know our guys are up to the challenge, and we are taking it one game at a time."
OWU's next game will be against Wittenberg University on Sept. 19 at 7 p.m. in Springfield, Ohio.