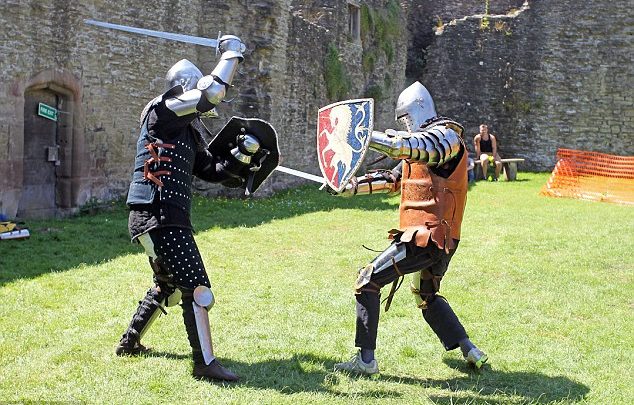 Medieval combat not just a thing of the past
Those students with an interest in swords and swordfighting can find an outlet for their passion in the Ohio Wesleyan Medieval and Renaissance Recreational Combat Association (MARRCA) club.
The club was formed in the 1970s and was originally called ARMA (Association for Renaissance Martial Arts). It has changed focus and direction many times, but it has always been about exploring Western martial arts and historical combat.
Between 2012 and 2014, the club practiced less combat and looked to games instead. The members learned various sword positions and some obscure moves, like "the wheel." They also focused on two-­handed long swords and roundel daggers.
Since 2014, Mark Wicker, assistant circulation manager at Beeghly library, has helped teach combat. This has allowed the club to move into a more practical, pared­ down fighting style that is more useful for self­-defense. Last year, they also introduced new, more durable swords, and the short sword­shield or buckler techniques.
"Most of our techniques are based on research of the actual techniques that Medieval and Renaissance soldiers used," said senior Luke Steffen, a member of MARRCA.
"Really, the members create the club experience," said senior Christine Mendiola, the MARCCA president. "I'm hoping as president to encourage and promote any direction the members want to take us in."