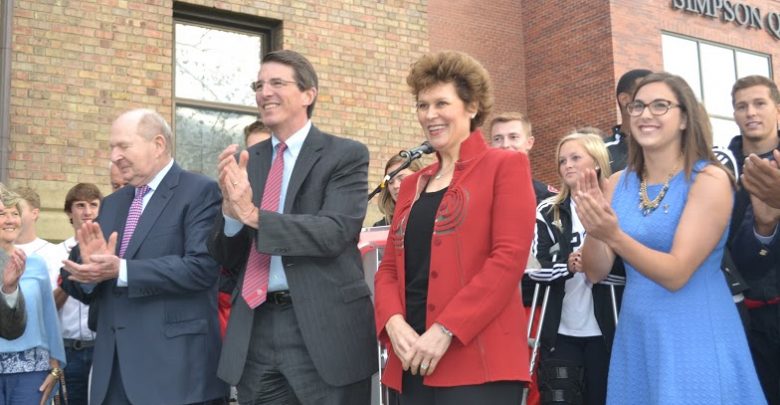 OWU celebrates new athletic facilities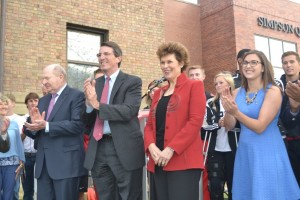 The leaves were falling as the Bishop Band played to a gathering crowd of students, alumni, faculty and Board of Trustees members.
The whole spectrum of OWU's community was assembled on Oct. 1 to celebrate the opening of the newly renovated Edward's Gym and recently completed Simpson Querrey Fitness Center.
The dedication was held in front of the buildings' fresh facades, alongside Sandusky Street. President Rock Jones took the podium early in the ceremony to explain that the school had been in talks "for more than a decade about the need for a fitness center."
"Students need the ability to maintain good physical health," Jones said.
But Jones also stressed how important modern athletic facilities are for OWU's recruitment efforts. "The new Edward's Gym and Simpson Querrey Center are a tremendous boost to the Battling Bishops' athletics and to our ability to attract and retain the best of the best student athletes."
Rock went on to introduce Louis A. Simpson, class of 1958, and Kimberly K. Querrey, the husband and wife team who financed the $8 million building projects.
According to an event pamphlet, Simpson majored in economics and accounting at OWU, and received a Master's degree in economics from Princeton University, "where he has served on the faculty."
Querrey holds a degree in mathematics, physical education and safety from West Virginia Institute of Technology and "is a member of The Woltemade Center advisory board," according to the same document.
In his speech, Jones mentioned the campaign developed by OWU to revitalize their sports facilities and said that it was "Lou and Kim who stepped forward with their incredible commitment to allow us to move forward immediately."
Wrapping up his speech, Jones said that Simpson and Querrey were "inspired by the opportunity to help students to live longer, more productive lives."
When Simpson and Querrey took the stage, they reiterated much of what Jones had said. Querrey told the crowd that the modern student needs a healthy outlet now more than ever.
"We live in a society where stress is a part of life," Querrey said. "I was told at another school that 35 percent of kids were dealing with disorders of some sort, mostly stress related. This center was built to help you learn to cope with life and issues. Hopefully you will develop some habits that help you be a productive member of society."
The event pamphlet reports that the Simpson Querrey Fitness Center "features a 4,350 ­square-foot fitness center…with cardiovascular equipment and free weights"; "a 2,425­ square-­foot dance studio with spectator seating"; and a new department of health and human kinetics studio for "students learning how to teach health­ and fitness­related activities."
The renovated Edward's Gym hosts "six faculty and 35 coaches' offices with reception areas"; "a restored second­floor basketball court, red tile roof, and skylight"; and "new locker rooms, restrooms, fire­protection systems, and elevator," according to the same pamphlet.
Jerry Lherisson and Emma Drongowski, both seniors and the president and vice president of the Wesleyan Council on Student Affairs, respectively, took the stage at the end of the ceremony to thank all those who had made the facilities possible.
Quoting an article from The Transcript, written on Feb. 28, 1906, about the original opening of Edward's Gym, Lherisson exclaimed, "A great day, the gym at last."
Drongowski used a more recent memory to frame her speech. She said, "Never did I think, when I was moving into my freshman residence hall, that we would have a fabulous new gym and fitness center by my senior year."
When Jones retook the podium, he had scissors in hand. Smiling at the crowd, he said, "We have in front of me the largest ribbon I have ever seen."
Flanked by Simpson and Querrey, Thomas Tritton, class of 1969 and chair of the board, and others, Rock helped to cut the banner reading "Mind. Body. Spirit."
And as the ribbon fell, the alma mater rang out from the Bishop Band's instruments.