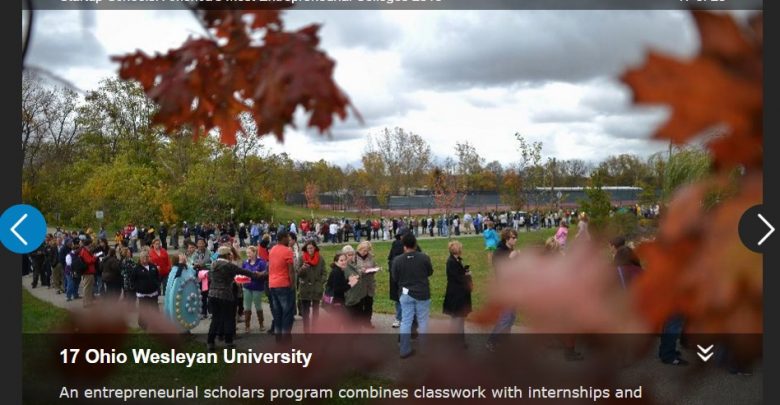 OWU a great place to do business
The sign over the Jay Walk says it all. "#1 in Ohio, #17 in America!"
Shortly after being ranked No. 17 in the nation among "America's Most Entrepreneurial Colleges 2015" by Forbes magazine, Ohio Wesleyan University announced that the department of economics will add a business administration major in fall 2016.
OWU has offered business related courses since 1921, but a business­-specific major has never existed. Barbara A. MacLeod, chair of the economics department and professor of management, believes this change will make a difference.
"Prospective students don't understand the management economics major has some business," she said. "This business administration major is more clear, not just in the name, but in content it's a full business major."
According to admissions data, many prospective students show interest in having the word "business" in their major's name.
OWU's business administration major will encompass coursework in management theory, human resources management and behavior, marketing and strategic decision­-making.
Along with the business coursework, the new major will work with other departments within OWU to establish related speakers, projects and ideas that can span across many academic fields.
"Our students will not only be taking the other distribution courses, but we hope to be doing a lot of cooperating with other departments on speakers, ideas and projects," MacLeod said. "The key aspects of a liberal arts are ideas like critical thinking, analysis, the ability to think effectively and write effectively and those are all under the program that we have proposed."
MacLeod sees more schools like OWU heading in the same direction in their near future.
"Since it has been approved, I have heard from other schools in our area, in the North Coast Athletic Conference and Great Lakes Intercollegiate Athletic Conference that they are also looking into how to expand into business," she said. "I think in 10­15 years we're going to see a very different landscape of all the liberal arts colleges in Ohio."
Nick Norman, a junior on the economics board, agrees with MacLeod.
"I think it will help with marketing for the school and especially help increase enrollment in the next few years," Norman said. "I think a lot of students choose to go to schools with a business school or major."
Freshman Anna Day was in that position not long ago.
"It was a little unclear coming in as a prospective student if there was exactly a business major," Day said. "I know a lot of my friends are interested about business and are happy that they can focus on what they want to do."