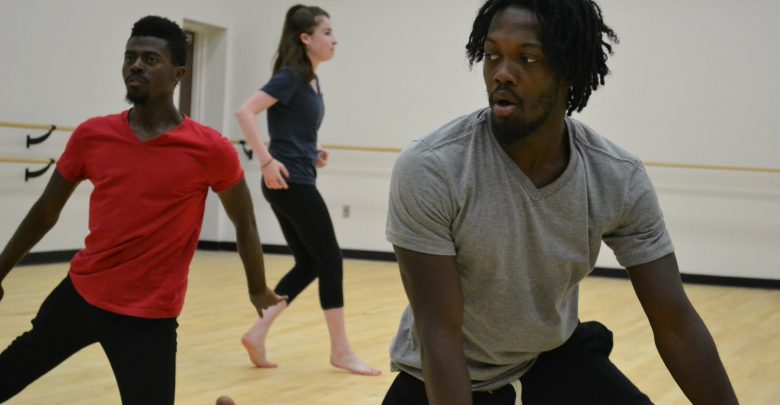 Sneak peak: Orchesis 2015
By: Gopika Nair, Assistant Copy Editor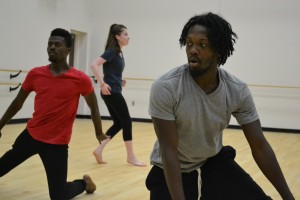 This year's Orchesis is unlike past performances. For the first time in several years, Ohio Wesleyan's theatre and dance department joined forces with the music department to devise the annual contemporary dance concert.
Orchesis features 24 dancers performing eight pieces created by students, faculty and a guest choreographer. The theatre and dance department at OWU will present "Orchesis 15/16" on Nov. 13, 14 and 15 in Chappelear Drama Center.
The choreographers of the show are primarily students who have taken a dance composition class, Rashana Smith, the artistic director of Orchesis and a professor in the theatre and dance department, said.
"It seems like the thread that's going through all of our pieces is inter-connectivity," Smith said.
The concert will conclude with the 24 dancers performing Smith's piece, titled "Effort of Interface."
The piece examines how much effort people put into being connected with one another, especially through technological devices and personal interactions. Smith's inspiration stemmed from wanting to understand what the point of interface is.
Through dance, she explored the extent to which technology, besides making life easier, has improved the quality of life. The performance will feature original music by Jennifer Jolley, assistant music professor at OWU.
"[The collaboration with the music department] has been really nice because of how we all compose similarly, differently and trying to make all those things come together has been an interesting challenge," Smith said.
All student pieces have varied musical elements. Junior Jeremy Griffin­-Jackson's piece explores breaking the traditional lines of dance and features original music composed by his cousin.
"It's much different than what people would hear at Orchesis," Griffin­-Jackson said. "It's piano- heavy, it's violin­heavy and it kind of has a cyclical nature, so it sounds like it repeats itself, but it's just a lot of the same instruments used in different ways throughout the piece."
Griffin-­Jackson said that one of the most memorable moments from the rehearsal process was watching the dancers in his piece perform to the music for the first time. Their excitement gave him energy and they picked up the routine fast.
Griffin-Jackson's piece was born out of his distaste for the more refined lines in dance such as the ballet line, which is the outline of a dancer's complete body while performing steps or poses.
"To me that's not pretty. That's just mechanical," he said. "So the idea [for this piece] just came from my own body and movement patterns."
Each choreographer drew inspiration from something that resonated with them. Sophomore Alexia Minton's piece, titled "Solitude of the Soul," is an adaptation of a statue by the same name that she saw in the Chicago Institute of Art.
Minton's piece explores the idea that no matter how closely people are connected, no one truly knows each other.
"When I went to Chicago and saw the statue, it was the one thing that really stood out to me," Minton said. "When I got back to the university setting and had the opportunity, I thought it would be really beautiful to place movement into it."
Some, like junior Diana Muzina, chose to express societal issues through dance.
The piece she choreographed deals with a specific thematic question involving society's impact on women and the potential for messages to make them feel less human, she said.
"I'm really trying to comment on the socialization process, and allow the audience to place themselves in the piece."
Over the last few years, Muzina encountered several physical and health problems that prompted her to modify her movements. One of the challenges she faced during the rehearsal process was choreographing for bodies that could do more than hers could, she said. Communicating certain movements to dancers that she could not demonstrate was also tough.
Rehearsals for the show have been underway since the second week of classes, Smith said.
Though the dancers have faced their share of challenges during the rehearsal process, they are excited to share their complex ideas with the audience.
"A lot of the work you will see will really make you think, and I believe it will have a huge impact on the audience," Muzina said. "There is something for everyone to find a connection to in the overall performance."
Tickets are free for OWU students with a valid student ID. Orchesis will be performed on the Main Stage in the drama center at 8 p.m. on Nov. 13 and Nov. 14 and at 2 p.m. on Nov. 15.