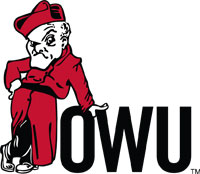 OWU student harassed, followed by unknown suspect
By: Cuckoo Gupta, Transcript Correspondent
An OWU student was briefly stalked and harassed by an unknown man who followed him from Rowland Avenue to Smith Hall on the night of Nov 3.
The man, allegedly 18­ years ­old, is a native of the Delaware community. He yelled profanities at and physically pushed junior Andrew Smith.
"I had never seen the man before that evening," said Smith. "He said he was disgruntled about being arrested after getting in a fight with someone."
The man was accompanied by a friend who "looked as if he did not want to be there," said Smith.
He tried stopping his aggressive acquaintance "multiple times."
"Based on the victim's report, it appears to be a case of mistaken identity," said Richard Morman, an investigator for Public Safety (PS).
After entering Smith Hall, Smith called PS, who contacted the Delaware Police Department (DPD). PS works "closely with the Fire Department and Delaware Police to keep the community safe," according to their website.
Smith was satisfied with PS's handling of the situation, and said he felt "safer" once he was with them.
Director of PS Robert Wood said, "We take many steps to help ensure safety. We have a 24/7 public safety presence on campus. And we partner with DELCOM (our county's central 911 center)."
"PS officers also provide escorts to students who are alone or have a specific reason to be concerned for their safety," Wood explained. "We have emergency phones located at various spots on campus that can be used to reach us."
The emergency phone has been used "very few times" in the past 10 years. The student escort system also has been seldom used.
Wood said that most of the times officer escorts are requested for convenience more than for safety.
"It is important to remember that regardless of what the PS department and administration does, individual decisions we make every day have a greater impact on our individual safety," Wood said.
The student life webpage has a number of instructions on safety tips and measures that can be taken by the students and staff, in situations like Smith's. The tips range from reporting any suspicious activity or safety incident immediately to securing yourself in a safe place and staying sheltered until you receive an all­-clear message.