Transcript Staff
Luke will never be forgotten.
This was said by Carson Miller, an old friend of Luke Gabbert's, as well as several others in the wake of his body being found just off of Ohio Wesleyan University's campus late Saturday morning.
There are certain things that bring the OWU community together and one of those things is tragedy. On the night of Gabbert's death, students gathered on The Hill for a vigil in his memory.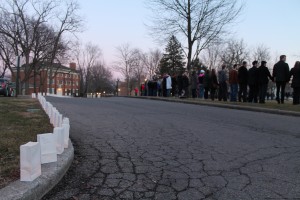 Delta Delta Delta sorority member senior Megan Ryan put it out to students soon after hearing the news.  As word spread quickly over 300 students gathered to grieve with the community they all share.
Gabbert was a soccer player, a pledge of Phi Kappa Psi fraternity (Phi Psi) and a member of Athletes in Action. All of these communities he touched were present at the vigil.  Students braved the cold to honor his memory.
Students and members of the OWU community had the opportunity to light a candle and write a prayer on white paper bags that were lined around The Hill. They were able to remember Luke and the things he loved.
Gabbert's neighbor Julie Feasel said, "He was always smiling and just last Sunday I saw him leaving his house with a big smile on his face."
Students were seen comforting each other holding hands, giving hugs, and consoling emotions with comforting words.  At one point everyone was circled all the way around the Hill holding hands in a moment of silence for the deceased.
At the end of the vigil the attendees walked around the circle on the hill to look at the prayers and messages people wrote for Luke.  Messages read "Miss you roomie" and "Rest in Peace Luke."
Director of Mission, Chad Johns, Director of Greek Life, Susie Long, and the President of Phi Psi Doug Dodridge all spoke to the students in attendance, comforting them and thanked everyone for coming.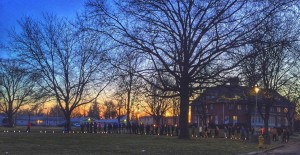 Associate Chaplain Lisa Ho said, "The vigil was a beautiful illustration of all that is good about the OWU community. It was the strength of community coming together in the midst of tragedy to honor a young life lived well."
"We only had four lighters, not realizing that we were going to light 315 candles," said Ryan. "Four people showed up together, 10 people showed up together, entire sororities and fraternities showed up together, sports teams gathered, and then just like that, almost 400 people were gathered together, crying, holding hands, and being there for each other."
Ryan said she hopes to make a collection of the bags and give them to the Gabbert family. "Luke truly touched so many lives," she added.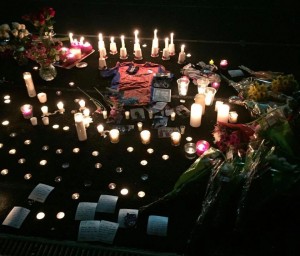 A memorial for Gabbert was also held at Pioneer Field at his high school on Saturday, Feb. 6 with over a hundred people attending.
"Everyone was hugging each other a little tighter last night. He touched all our hearts and was with us in spirit. He is looking down on us letting us know it is okay," said Marco Ventresca, Gabbert's friend from elementary school days.
A GoFundMe fundraiser has been set up to help Gabbert's family with the funeral costs.
The GoFundMe was created by a friend of the family, Jody Spriggs, in an effort to make the process even the slightest bit easier, said Ventresco.
OWU men's soccer coach Jay Martin was open to talking about one of his former athletes. A long time coach of Gabbert, he said he is sad to see such a talented kid go. Martin was not only his coach at OWU but had also worked with Gabbart on the field during summer soccer camps.
Martin said Gabbert was studying physical education and dreamt of becoming a coach and teacher.
Martin also said the university plans to hang a banner featuring Gabbert's name and number at OWU's soccer field in his honor. He said the team will retire the number 19 in his honor. He wants people to know that the support from the community has been amazing and is appreciated. 
Miller, who had known Gabbert for 9 years, said, "[Luke] did everything for everyone else and did not expect anything in return. He was so lovable and loving...No one is ever going to forget Luke."
In just six hours, friends, family and well wishers of Gabbert came together to raise over $8,000 for the family to cover funeral costs. To view the GoFundMe account, click here.
UPDATE: The calling hours and Celebration of Life services will be held at Grace Church of Powell, 7600 Liberty Road, Powell, Ohio. Calling hours will be from 3 p.m. to 7 p.m. on Friday, Feb. 12, with a service at 11 a.m. on Saturday, Feb. 13.