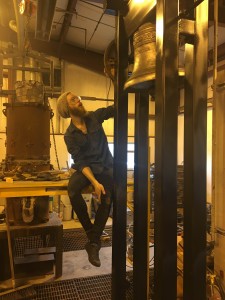 Leia Miza, Transcript Reporter
A 200-pound bell, made by senior Owen Kelling, will be settled in front of Elliott Hall over spring break.
The creation of the bell was initially a house project for the Peace and Justice House (P&J). Kelling decided to create this piece in order to represent both the house and school curriculum.
"[Kelling] signed up for an independent study last fall and elected to work on a commemorative bell celebrating 30 years of the Peace and Justice House," said Jon Quick, part-time professor of fine arts.
The bell has two different sayings: "For Peace and Justice" and "A Coeli Usque ad Centrum," which is Latin for "to the sky from the center of the earth."
"It's a phrase from old Roman property tax code," Kelling said. "It was a literal definition of infinite personal property. In this context, it's more figurative and spiritual [of] peace and justice everywhere."
The frieze embedded on the bell was another reference to the P&J house. "It's a charcoal rubbing I took  of the radiator that's in my room at pj and then retraced it on the plaster and carved the shape in the plaster so it's from scratch," said Kelling.
Kelling cast the bell this past October. "The final cast was a little disappointing due to significant breakout in the cast. But [Kelling] put in untold hours of work, as did I, providing troubleshooting and assistance throughout the entire process," said Quick.
The bell got recognition after a house meeting at P&J with President Rock Jones.
"Owen has done a great job of promoting his efforts and apparently got the attention of Rock Jones and others who deemed it an appropriate and timely addition to the campus landscape," Quick said.
The bell tower will be positioned 20 feet over from Elliot, will stand at 11 feet and ring the D note. Kelling mentioned that the bell might ring for commencement this coming May.
Camille Mullins-Lemieux, a resident of P&J, spoke highly of her housemate. "I think that we were excited when we found out he was making the bell. As he made it over the months, the excitement grew. He would bring molds and drawings to house meetings and we would all be in awe each time."
Mullins-Lemieux said the project was a way to preserve the legacy of P&J.
"It will be here forever and it will be maintained as a landmark," Kelling said. "It's going to ring for every single person that goes here forever. That's really one of those augmentation things I really didn't expect."