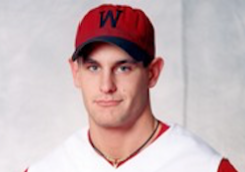 Missler's mark on OWU baseball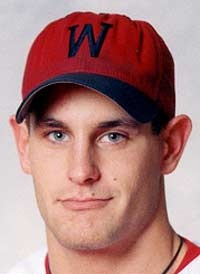 Ross Hickenbottom, Sports Editor
Anyone strolling along the Ohio Wesleyan campus over the past few years has probably noticed the new and more recognizable red hats the baseball teams wear, but not everyone knows the story behind them.
OWU's baseball program is well-known among baseball fans in the U.S. because of alumni like Branch Rickey, who helped his agent, Jackie Robinson, break the color barrier of professional baseball in 1945.
Additionally, Tim Corbin, current Vanderbilt baseball head coach, created an elite program at the Division I college in Tennessee by winning multiple SEC Championships and a National Championship.
But among the OWU baseball program, one name is constantly being thought of and commemorated: Ryan Missler.
Missler, who died in August 2014, left a legacy behind at OWU when he graduated in 1998, going down as one of the best baseball players to ever step foot onto the diamond, according to his former coaches.
The former standout third baseman was 38 when he was involved in the crash that served as a loss to not only the OWU community, but to a wife, kids and numerous loved ones.
After hearing the news before the start of the 2014 season, the baseball team, led by the efforts of head coach Tyler Mott, decided that Missler deserved proper recognition and memorial, so they changed their caps to resemble those that Missler and his teammates wore during his career here.
The hat was red and included a black capital "W" as well as the number "7," Missler's number, which was retired for the remainder of OWU baseball history.
Missler, with a career batting average of .400, falls into fifth place in the OWU record books, as well as holding the record for most home runs in a season.
Though elite, his baseball skills aren't entirely what compose the many memories he left behind. Missler was an exceptional person, as well as student, as told by his former coaches, including Fody Frentsos, current assistant coach.
Frentsos recalled a specific story, in which Missler brought humor and positivity to a situation involving quite the opposite feelings felt by a teammate and left-hand man, his shortstop.  He shined in his leadership skills, by not only his words, but through his actions and never-ending thirst to succeed.
Roger Ingles, current OWU director of athletics, used to be heavily involved in the OWU baseball team, serving as a coach for multiple years. He said Missler always showed up ready to play hard.
"Everybody else kind of followed suit, because you had a guy that plays like that every day," he said. "It just rubs off on everyone else."
A player like Missler still serves as a mold for current OWU baseball players.
Justin Dages, senior shortstop, said Coach Mott views the hat as something that needs to be worked for and earned.
"The hat is the one thing that coaches hold back until we pass our fitness test, because of what it represents, which is those we have lost in our program: Ryan [Missler], and now [Brandon] Sega as well," Dages said. "It also represents everyone who wore the uniform before us in this program and every time we put it on we play not only for each other, but for all of those who came before us."
The players understand that the game of baseball goes past the diamond or batting cage by wearing these caps.