By Leia Miza, Photo Editor
If you didn't know, the most delicious cinnamon rolls are being made right here in town.
Delaware's newest cafe and bakery, Fresh Start, opened its doors to the community this past July, offering fresh baked good, pastries and Crimson Cup Coffee.
Co-Owner, Todd Daughenbaugh, Delaware resident of 14 years, said he "lived in Columbus, slept in Delaware" and aspired to finally connect with the community and start fresh, hence the name of his new business.
"I really wanted to be more connected to the community, or find something, a business that the community really needs and wants and I think we found that niche here, with great pastries, baked good and hopefully even more deserts." he said.
Ron Lawson, manager of Fresh Start, added  "The reason why wanted to open in Delaware was the fact that Buehler's had closed down and so there was a need immediately because of that. But our heart was to bring great coffee and great baked goods anyway, and I think that's something downtown Delaware needed."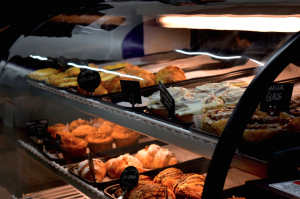 By walking into the bakery on any morning, you will notice that business is booming. "We have people in everyday that are new but then we have a lot of people who are regular customers already. Eight weeks in, to have as many regular customers as we do, that's a very positive sign." said Lawson.
Daughenbaugh said it's been amazing, and the community has been very supportive. "People really appreciate the quality and the customer service and the great products, great food, pastries and coffee, things like that." he said.
And although, Home Slices is right down the street, competition is not something of much concern to Fresh Start.
"The only competition that we see is that they're on the corner which is a prime location and we're a little further up the street. But everything we do is different than anywhere you'll find baked goods in Delaware or anywhere close." said Lawson.
His wife, Lynette Lawson, runs the kitchen as head baker. "All of our doughs are hand laminated.. We don't use any frozen batters or any frozen breads. Everything is made from scratch." she said.
From her spinach rosettes to her grandmother's cinnamon roll recipe, Lawson explains that there's a strong demand for all the products.