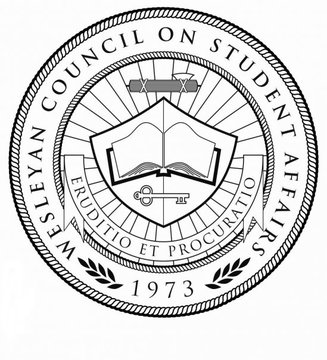 WCSA talks budgets at meeting
By Liz Hardaway, A&E Editor
The Wesleyan Student Council of Affairs discussed reducing the student activity fee, proposed updating the furniture in residential halls and revealed their budget plans during their meetings on Sept. 12 and 19.
On Sept. 12, Sam Schurer, vice president of WCSA, informed the council of the budgets for their four accounts: rollback, operating, initiatives and an allocation account. The allocation account is intended to account for 85 percent of the funds. The budgets are $80,000, $4,000, $45,000 and $60,000 respectively.
Schurer also said that the WCSA has a lot more funds than budgeted for.
The rollback account contains $201,995, which was money intended to be pulled out, but wasn't until this year. This was simply because of miscommunication between WCSA and the accounting department.
The operating account has $61,540, and the initiatives account holds $93,508. Finally, the allocation account used for clubs and organizations on campus has $335,438 more than the $275,000 that the budget entails.
"We didn't realize where the money was going each year," said Jess Choate, the president of WCSA.
Each account has its own function within WCSA and the campus. The operating account is used for WCSA elections and advertising campus activities, whereas initiatives provide income for mission trips and campus counseling services.
The allocation funds are used for funding clubs, organizations and budget requests. The rollback account is all the money budgeted that wasn't used the preceding year. In the past, they've used the latter for new hydration stations and the recent ColumBus.
Dwayne Todd, vice president of student engagement and success, also proposed installing new study tables, chairs and soft seating in Welch and Smith Halls.
No new furniture will be added in Stuyvesant Hall because it was renovated recently. New furniture for the Small Living Units (SLUs) are part of the construction budget.
Furniture in fraternities also need to be replaced, but housing agreements for fraternities have to be negotiated, Todd said.
The cost for the installation of new furniture will amount to $164,000.
When a student asked why WCSA should fund the replacement of furniture, Todd said it was because the university does not have the money, but WCSA does.
Schurer said the committee could restructure the budget as they see fit, and he wants to start normalizing the budget to prevent the accumulation of funds from being a pattern.
At the Sept. 19 meeting, the Student Life Committee informed the council that they heard students' concerns about the Wi-Fi, and are constructing a resolution acknowledging these concerns.
Despite having a surplus of funds, the Budget Committee presented no budget requests, due to the lack of clubs requests for funds.
"Put in requests, as many as you can … speakers, performances, anything. We need to spend that money so it doesn't go into rollover again," Daud Baz, treasurer, said.