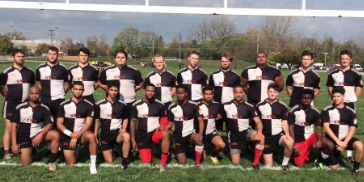 OWU Rugby wraps up fall season
By Ross Hickenbottom, Sports Editor
The Ohio Wesleyan club Rugby men's and women's squads recently wrapped up it's fall seasons, both being named semifinalists in their conference championship tour- naments. The women are part of the Ohio Valley Women's Collegiate Rugby Conference, along with NCAC rivals Hiram, Denison, Kenyon, Oberlin and Wittenberg, and the men are part of the Great Lakes Collegiate Rugby Confer- ence Central Division along with Denison Kenyon and Oberlin.
Both squads began their fall season as early as August 31, just a week after classes began at OWU. Their seasons consisted of games versus much larger schools including Xavier University, Ashland and the University of Kentucky. With only seven weeks of contests before the National Small College Rugby Organization playoffs.
Coach John English, who began coaching the men's program midway through the spring of 2014, and in the fall of 2015, took over as the Director of Rugby for both men's and women's programs, set a goal to put Ohio Wesleyan University Rugby on the forefront of Ohio rugby.
"There has been great support for the rugby program from everyone at OWU, from the President all the way down," he said.
"The university does a great job in recognizing the success of the players and program as a whole."
As far as putting OWU on the map for Rugby, he has done just that. Both teams finished with winning seasons, and chalked up impressive numbers against opponents such as men's wins over Oberlin 68-0 and Ashland 87-14, and a staggering women's win over Wittenberg 55-7.
The OWU Rugby program continues to grow and gain relevance on campus through constant recruiting and adver- tisement among campus. The men's team fielded 20 players in their first bout of the 2016 fall season while the women's team fielded 25. Both numbers have shown an increase as compared to previous years in the program.
On Saturday the 29th, the men ended their season with a hard fought loss against the Jackets from Baldwin Wallace, 14-46 while the women ended theirs with a loss to the Oilers from Findlay 25-0.
The OWU Rugby teams are clubs of men and women student-athletes committed to the constant pursuit of perfect pitch, and are always recruiting.