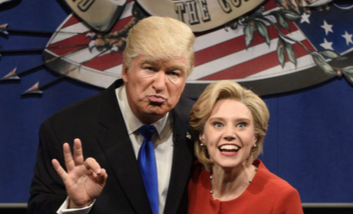 Saturday Night Live covers elections
By Matt Maier, Transcript Reporter
What are three words that describe this year's election? Now, think of the Saturday Night Live skits that have been done. Are your answers roughly similar?
This election has brought some of the funniest and most outrageous sketch performances in recent history.
The infamous SNL skits have been centerpieces of the elections for years now, and this election has not disappointed. Let's take a look back and rank some from this year's election.
The first debate gave SNL plenty of material, and SNL used the ammunition accordingly. The countless "sniffles" of Alec Baldwin's Donald Trump truly brought up the is- sue many Americans were thinking and the style that Kate McKinnon's Hillary Clinton entered was right on cue.
Walking in with a cane, as if the rumors of her health second best out of the three.
The town hall debate had one iconic moment that people have forever remembered: Ken Bone.
The man who asked a question during this debate found memes and images of himself all around the country the next day and the SNL skit didn't fail to mention him.
When asked about setting a good example for children, McKinnon answered "yes," while Baldwin simply said "no," earning laughs. This debate sketch comes in at number three, however.
Finally, the third and last debate was one for the ages as guest moderator Tom Hanks played the part of Chris Wallace.
If the attention from that wasn't enough, audiences loved the way that McKinnon's Clinton opened up the debate with how she was planning to "feast" in her last debate. As for Baldwin's Trump performance, none were as good. Over the years, many people have played Trump, but Baldwin stole the show.