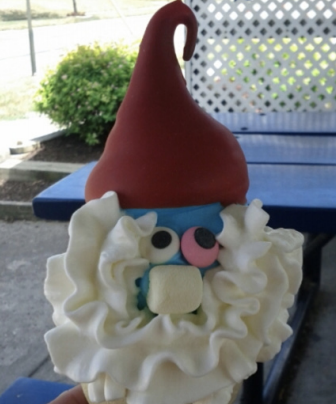 Local ice cream shop welcomes back customers
By Alanna Henderson, Managing Editor
Dari Point is officially open for the season.
The locally, family owned ice cream shop is now open from mid-Feb. and closes mid-Oct. The ice cream shop opened on Feb. 15 and welcomed the warm weather.
Current storeowner Jim Ballinger worked at Dari Point for one year before buying the shop in 1999. Throughout the years, Ballinger's three children and wife have also worked at the shop. Currently, youngest daughter, Brooke Corwin handles Dari Point's advertising and social media accounts.
Ballinger is now going into his 18th season at Dari Point. "It's not an easy business to run and operate. Being open everyday and for long hours makes it a difficult business to run… It's demanding, but it's rewarding," Ballinger said.
Dari Point has become a tradition for many current Delaware residents. "It's become an iconic place in Delaware. A lot of our customers are third or fourth generation customers," Corwin said.
"We have grandparents and great-grandparents bringing in grandchildren and you can hear them say in the lobby, 'grandma used to come here and eat ice cream when she was a little girl.' That's really special to us to know we have maintained that trust with our customers for them to keep coming back generation after generation," Corwin said.  
Some customers have come from neighboring Columbus areas to as far as Texas just for Dari Point. Ballinger said there have been customers who are traveling that will make Dari Point a pit stop on their routes. "We don't have a ton of visitors like that, but enough that makes us feel really good. Our customers are our best advertisers," Ballinger said.
OWU junior and Delaware resident, Brooke Zinader went to Dari Point over the opening weekend. "I always remembered going to Dari Point after all my soccer games as a little girl. It was everyone's favorite ice cream place growing up and still today is a favorite by many in the great city of Delaware," Zinader said.
"It's so cool to see what a huge part in the community that we play… In today's world when things are moving so fast, and most people hide behind a screen for their social aspect, it means a lot for people to see a family running a small business that is not a commercial chain. There's something about a small town and family run business that [makes us a] tradition and our customers know that we really care about them," Corwin said.
The menu contains several family recipes such as the chicken noodle soup and the pork barbeque sandwich. All of the specialty ice cream flavors are made from scratch with real ingredients, for instance the peanut butter and peach flavors.
At any given time, Dari Point offers six soft serve flavors and if from the same machine, can be twisted together. The chocolate, black raspberry and blue raspberry soft serve flavors are always available, while vanilla, banana and blueberry are currently being featured.
Other possible flavors that will be offered throughout the ice cream season are lemon, peanut butter, cinnamon roll, peach, apple pie, pumpkin pie and orange pineapple.
Dari Point's signature flavor is their blue raspberry sherbet flavor. "[Blue raspberry] picked up on it's own. People started calling it the 'Smurf Cone.' When anybody orders a Smurf Cone, it gets two eyes, a marshmallow nose which started before I even bought the store," Ballinger said.
The Smurf's were first created as a comic in Belgian in 1958. It wasn't until 1981 when the Smurf's appeared on television in America. In 2011, Raja Gosnell directed The Smurf's movie, which a live-action and computer-animated comedy and brought back the well-known characters.
OWU senior Dominick Orsini went to Dari Point for the first time as recommendation from another student. "The Smurf cone was amazingly decorated and tasted like a little bit of heaven on earth. Best cone I've had in years," Orsini said.
The Papa Smurf sherbet cone is also available but includes the top of the ice cream dipped in a hard, cherry shell to create a hat, and finished off with a whipped cream beard. The Paper Smurf has become Dari Point's number one seller.
Dari Point's menu includes appetizers, sandwiches, soft serve ice cream cones, sundaes, over 20 milkshake flavors and more.
Like Dari Point on Facebook for the most recent updates on which flavors will be featured throughout the ice cream season.
Dari Point is located at 303 E. Winter St. – roughly a five minute drive from OWU's main campus. The shop is open Mon. through Sat. 11 a.m. – 8 p.m. and on Sunday, 1 p.m. – 8 p.m.