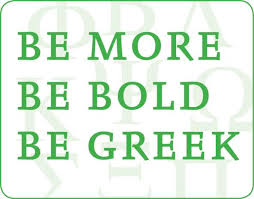 DG and Sig Ep dribble to victory
By Alanna Henderson, Managing Editor
Fraternity and sorority teams took it to the hoop for Phi Delta Theta's (Phi Delt) annual spring basketball tournament.
Phi Delt held its 3v3 basketball tournament April 8 in the fraternity's backyard court.
Delta Gamma (DG) and Sigma Phi Epsilon (Sig Ep) came out victorious and were each awarded $150 that went toward their own philanthropies.
Typically, winners receive a physical trophy, but Phi Delt's chapter advisory board donated money to encourage other fraternities and sororities to compete. The tournament was divided into two brackets—one for fraternities and the other for sororities.
"It was a great win … but the money to our own philanthropy made the win even better because it wasn't about us any more, it was about Service for Sight," DG team player Lisa Zeller said.
Around 50 Greek community members came out to enjoy the sunshine and cheer for their teams and almost all Greek organizations donated or participated.
Senior Phi Delt member and philanthropy chair Lucas Janowicz planned the tournament for the rst time.
"The most rewarding part of putting an event like this together is seeing it come to fruition, and seeing members of the Greek community supporting each other and supporting a terri c cause," Janowicz said.
The brothers host a spelling bee competition in the fall semester and the basketball tournament in the spring semester. Several brothers of Phi Delt volunteer for Big Brothers Big Sisters of America on a weekly basis and have for years, but the chapter's philanthropy events serve the ALS Association.
OWU Phi Delt members are in the works of planning a 5k run in Delaware to help get the community more involved and partner with the Phi Delt members from Otterbein University.
"Being a retired philanthropy chair, I understand the hard work there is put into events like this, so I'm always one of the rst people to sign up," Phoebe Bush, player for Delta Delta Delta, said. "I thought [Phi Delt] had a great event."
To learn more about this international fraternity, visit https://www.phideltatheta. org.