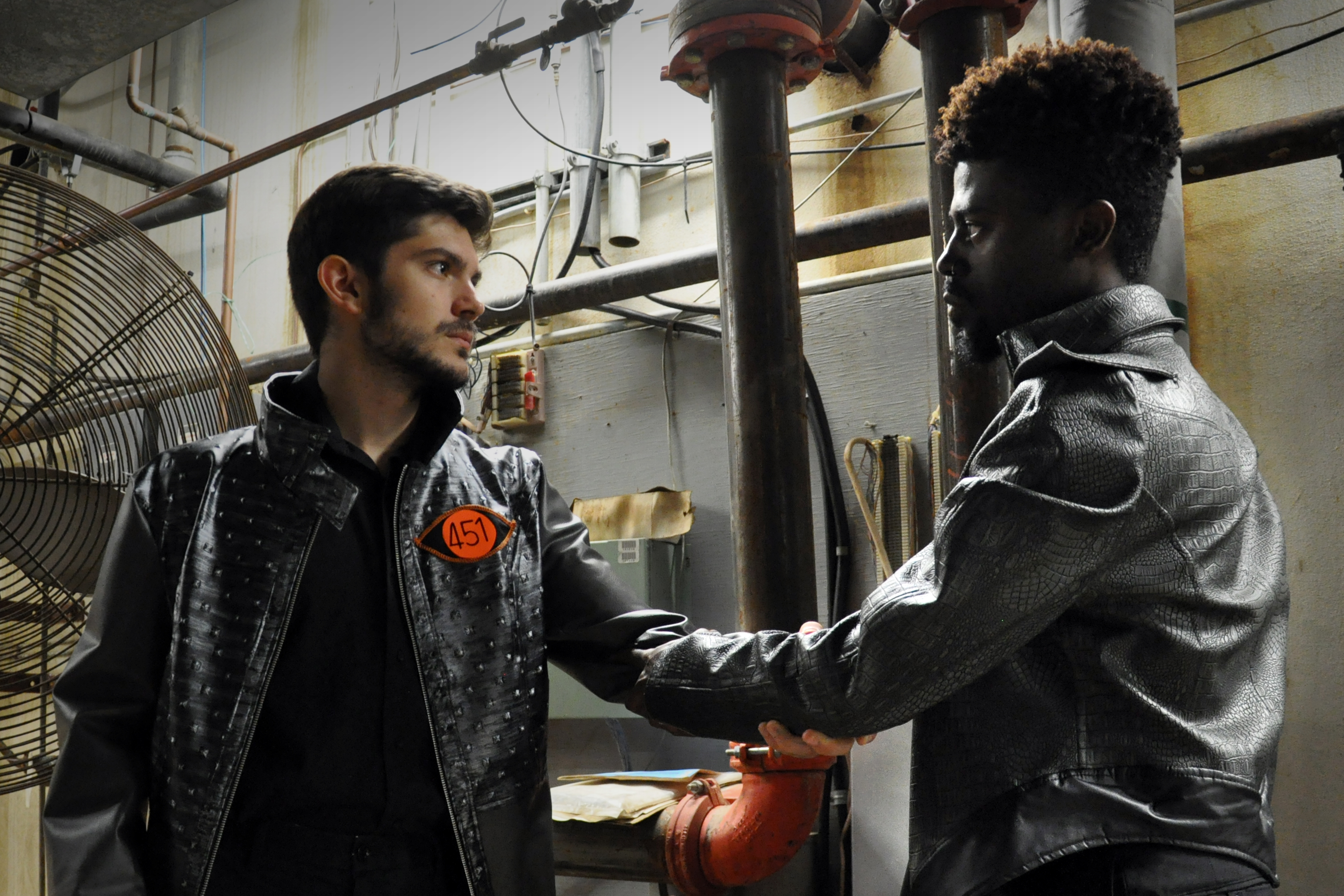 Freedom of speech brought to light in play
By Gopika Nair, Editor-in-Chief 
With Fahrenheit 451's production, Ohio Wesleyan's theatre and dance department brought attention to national issues concerning free speech and censorship.
After five weeks of rehearsals, the production was held on the Main Stage inside Chappelear Drama Center, running from Oct. 5 through Oct. 7. Adapted from Ray Bradbury's novel of the same name, the play was directed by D. Glen Vanderbilt Jr., professor of theatre.
"I had been considering the play for several years and this year felt like the 'right' time to offer it," Vanderbilt said. "Free thought and free speech are such a part of our national conversation these days, the book (over 50 years old) has some new urgency."
Bradbury's novel was published in 1953, but its themes continue to be relevant today.
"Every day, we hear stories of people who have attempted to squelch other people's thoughts and expressions," Vanderbilt said. "It happens far too often in our society. We take many of our freedoms for granted and this play about a society where they have given away many of them is a cautionary tale about a possible future."
In the play, Guy Montag, portrayed by sophomore Josh Martin, lives in a world where books and the ideas it contains are banned. Montag is a fireman whose job is to burn books, with pyrotechnics featured in the production. Throughout the course of the play, Montag's dissatisfaction with his life increases and he's consumed by intellectual curiosity.
Martin said he was intrigued by the stage adaptation of Bradbury's novel and sought out the opportunity to be a part of OWU's production.
"I am fascinated by the dichotomy of Montag's inner thoughts; the ever-present battle between autonomy and peace, morality and ignorance," he said.
The play also ended on a more hopeful note than the one offered in the novel, which delighted many audience members, Martin said.
"I think Bradbury, when he wrote Fahrenheit 451 (and I'm sure today), would hope for people to continue to question their world around them," he said. "Find ways to challenge the inequities that plague Western culture and never stop protesting the status quo."
The play also featured senior Kacie Iuvara as Mildred, Montag's wife. Because Fahrenheit 451 tied her passions for theatre and books, Iuvara said she wanted to become involved with the production.
"As actors, we're told to look for objectives, what our characters want," Iuvara said. "Playing Mildred, a character who lives for the next high and buries herself in distractions to avoid coping with reality, was difficult because she often didn't have an obvious objective. Figuring out what Mildred wanted out of her life was definitely challenging, but also a lot of fun."
The play cautioned audience members about the dangers of erasing knowledge and rewriting facts, Iuvara said.
"This play reminds audience members about the extreme importance of creativity, individuality, truth, and above all, thought."