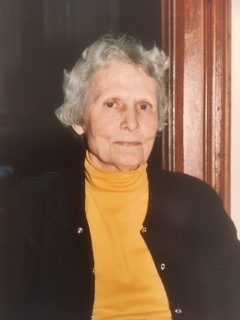 Remembering a Beloved OWU Employee and Delaware Community Member
Photo courtesy of OWU Communications
By Erin Ross
emross@owu.edu
Staff reporter
Kathryn Carlisle Schwartz, previous president of the League of Women Voters of Delaware County and Professor Emeritus of English at Ohio Wesleyan University (OWU), died on March 3.
Schwartz, born on Nov. 17, 1926 in Biltmore, North Carolina, graduated from Bard College in 1947 with a bachelor's degree in English and a minor in music. Schwartz also acquired a master's degree in English in 1967 and a doctorate in English in 1976 at The Ohio State University, according to her obituary.
She married Paul Schwartz on July 5, 1947. Together they lived in Gambier, Ohio for 39 years before moving to Delaware, Ohio in 1986.
While living in Gambier, Schwartz had a variety of ad hoc work experiences such as teaching music at public schools and Kenyon College and teaching English at The Ohio State University and Kenyon College, according to her obituary. She also held leadership positions in the Gambier League of Women Voters, the Beethoven Club, the Ohio Federation of Music Clubs, the Knox County Symphony, and Save the Children Federation, according to her obituary.
Schwartz, 92, began working for OWU in 1978 as a teacher of English Composition and retired as a professor of English in 1993. Starting in 1984, she also served as Director of Freshman Composition and worked with over 4,000 students, according to her obituary.
Schwartz also contributed greatly to the Delaware community. She did community service on the Delaware City Charter Review Commission, Community Impact Team of the United Way and Central Ohio Symphony Trustees, according to her obituary.
She was also an active member of the Delaware County Democratic Party and served as president to the League of Women Voters of Delaware County for seven years and co-president for four years.
Schwartz also led composition seminars for high school teachers from 1984-88 and taught courses on Perspectives on Women in Literature for ten years, according to her obituary.
During her time at OWU, Schwartz created connections between campus and community members.
"With quiet and gracious counsel, she connected me to so many dimensions of Delaware and the campus, especially the League of Women Voters and the more trustworthy liberal characters of the community," university chaplain Jon Powers said.
In addition to connecting the OWU campus and Delaware community, Schwartz formed close relationships and mentorships with many OWU faculty and students.
"Kathryn was such an elegant soul – personally, socially, societally, intellectually, politically," Powers said. "She was one of the first to welcome me to campus back in 1988 when I nothing more than a raring young upstart. Over the years, she endured my immature impatience with exquisite grace, and mentored me wisely in the wiley whimsies of this wonderful community."
Professor of English Lynette Carpenter also commented on Schwartz's impact on OWU.
"Dr. Schwartz was a dedicated teacher who held her students to high standards and taught generations of students to be better writers," Carpenter said.
Schwartz's impact on the university and community members will remain present in the minds of faculty members who knew her.
"In recent years, as I have passed daily by her stately home on North Washington, I have had such thoughts of gratitude for her profound presence in my life, and in the life of so many of us who have been blessed by her quiet presence," Powers said. "We have lost a regal elder; our village will never be quite the same again."
Schwartz, who died at Willow Brook at Delaware Run, is survived by daughters, Angela and Julia Schwartz, two grandchildren, Serena and Alma Kunzler, nephew John Alch and his daughter Miranda Alch, and her sons-in-law Shepherd Mead, Christoph Kunzler, and Arthur Lopatin, according to Schwartz's obituary.
She was preceded in death by her husband Paul who died in 1999, and her middle daughter Isabel Lopatin who died in 2018, according to Schwartz obituary.
A memorial service is scheduled to occur on Sunday, April 14, in the Summit Room at Willow Brook at Delaware Run.
Contributions to Kathryn's memory can be made to the Central Ohio Symphony, P.O Box 619, Delaware, OH 43015, the League of Women Voters of Delaware County, 4477 Chapman Road, Delaware, OH 43015 or Population Connection, 2120 L Street NW, Suite 500, Washington, DC 20037.
https://www.legacy.com/obituaries/delgazette/obituary.aspx?n=kathryn-carlisle-schwartz&pid=191797534