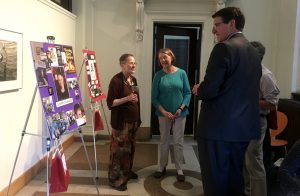 Dr. Lynette Carpenter – educator, novelist, scholar, activist, and animal lover – is retiring after serving on the Ohio Wesleyan faculty for 30 years.
A native Texan, Dr. Carpenter received her B.A. from the University of Texas and her M.A. and Ph.D. from Indiana University, where she also minored in Film Studies. Before coming to OWU, she taught in the English Department at the University of Cincinnati while serving as Associate and then Acting Director of Women's Studies at the same institution.
A versatile teacher, Dr. Carpenter offered courses in expository and creative writing, 19th- and 20th-century American literature, women's literature, the Gothic, and film. Her scholarly works include two books on women's ghost stories (with Wendy Kolmar) as well as essays on American film, on authors such as Edith Wharton, Shirley Jackson, and Edna O'Brien, and a pathbreaking study that identifies the girl detective as a lineal descendent of the Gothic heroine. She also wrote for Ms., the highly influential feminist magazine, and published an art book with photographer (and OWU faculty member) Jeffrey Nilan, The Road Home / The Home Road.
In an appropriately Gothic twist, Dr. Carpenter adopted a second identity shortly after arriving at Ohio Wesleyan. Under the pen name D.B. Borton or Della Borton, Dr. Carpenter has published 11 mystery novels in two series: the Cat Caliban series and the Gilda Liberty series.
More recently, she expanded her literary repertoire by publishing a work of comic science fiction, Second Coming, as well as two new mysteries, Smoke and Bayou City Burning. While compulsively readable as whodunits, Dr. Carpenter's novels are typically characterized by precisely rendered historical settings, resourceful heroines, and a puckish sense of humor.
Dr. Carpenter's pedagogical, scholarly, and literary accomplishments have not prevented her from being a dedicated colleague, a generous mentor for students and junior faculty, and an engaged citizen within the University committee.
Dr. Carpenter has served as the Chair of the English department, the Secretary of the campus chapter of Phi Beta Kappa, and the Faculty Advisor of the OWL literary magazine.
As the head of the Film Studies Program, she was the driving force behind the creation of Ohio Wesleyan's Film Studies major. Dr. Carpenter also has served on numerous faculty committees, perhaps most memorably as a long-serving member of the labor-intensive Faculty Personnel Committee.
Somehow, she also found time to study and practice aikido, gardening, pottery, third, fourth, and fifth languages, and Healing Touch for animals.
While Dr. Carpenter's accomplishments are substantial and her retirement richly deserved, her colleagues in the English Department and friends across the University secretly hope that her career has one more Gothic twist in store.
She is welcome to take up secret residence in the attic of Sturges Hall, to haunt the backstairs and basement passageways, and even to disrupt class meetings with eerie noises or mysterious lights. Whether Dr. Carpenter accepts this invitation is finally immaterial: either way, her presence on campus will be felt for decades to come.