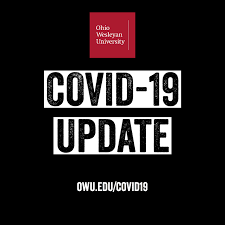 On March 13, 2020, President Rock Jones sent out an updated email about remote learning for the rest of the semester:
Dear OWU Community,
Today, Dr. Amy Acton, director of the Ohio Department of Health, announced that Ohio's outbreak of coronavirus disease 19 (COVID-19) is not expected to peak until between late April and mid-May.
To the extent possible, we had hoped to preserve the residential campus and in-person class experience for our students, and so we were making decisions with that goal in mind. Now, however, the course that we must follow for the health and safety of the Bishop family is clear: Effective immediately, we are cancelling on-campus classes for the rest of the semester.
As a result, spring break will be extended through next week to enable our faculty to shift their work from creating a temporary remote-learning experience to planning for remote teaching and learning to continue throughout the semester. Classes will resume March 23.
Students who have petitioned and been approved to remain on campus for the next three weeks now will be permitted to remain through the semester should they wish to do so. Students who still need to petition must apply before 8 a.m. March 16, using our Request Approval for Remote Instruction Housing form.
Students who will be returning home are asked to move out next week between 9 a.m. and 5 p.m. if possible. Only students who have petitioned and been approved to remain on campus will be able to stay overnight beyond 5 p.m. March 16. For students unable to move out next week, the following dates also will be available from 9 a.m. to 5 p.m.: April 4-5, April 18-19, and May 8-9. More details will be available on our Move Out Information page.
We have not yet made a decision about graduation and commencement weekend activities.
We will be making a partial room and board refund and will provide more information over the coming weeks.
We will provide additional information via email to those who are completing student-teaching experiences and who may need to return to the K-12 classroom if those schools reopen after April 3. We also will provide additional information about upcoming Travel-Learning Courses and Theory-to-Practice Grant experiences.
In addition, we will provide more information next week to our staff as we work through the implications of canceling on-campus classes. This will include opportunities for staff whose positions allow to work remotely through April 3, currently the period for the closure of Ohio's K-12 schools. We will reassess as the situation evolves.
With the cancellation of on-campus classes, our Early Childhood Center also will close for the semester. The New York Arts Program already has announced its closure for the semester effective March 20.
To support public health and safety, we also are suspending on-campus visits from prospective students and families until April 6, which includes canceling the April 4 Slice event. Planned Slice events for April 20 and April 25 remain tentatively scheduled. During this time, prospective students are urged to take a virtual tour of our campus and contact Admission representatives for more information.
Finally, I want to take a moment to simply ask everyone, Are you OK? It has been a difficult week to be sure, and the next few weeks promise new challenges as we deal with the COVID-19 impact not only as a university, but also as a state, nation, and world.
As we navigate these issues, I want to take a moment to make sure we're taking time to support each other – to ensure everyone is OK as we transition to remote learning and as we separate our on-campus family for the semester to help keep everyone safe.
Fortunately, we are able to FaceTime, Skype, Google Hangout, GroupMe, Tweet, Zoom, Snap, and even make an old-fashioned telephone call to check in on those we care about.
The COVID-19 situation is unique in our lifetime and will continue to require us to be flexible, patient, and understanding. We all had hoped for a quick resolution and a return to normalcy, but that is not to be. Thank you for your support and creative problem-solving in a difficult time.
Thank you, as well, for your questions and comments, as they help us to think about issues from all perspectives as we continue our work to educate the next generation of moral leaders.
Wherever you are, know that I am thinking of you and praying that you are, and remain, OK until our paths cross again.