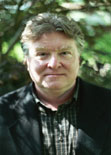 The Night Owl is an online-only literary publication started at Ohio Wesleyan and serves as a place "where fellow lovers of reading and writing can converge," said managing editor Elizabeth Riggio '14.
The publication is a way to maintain connections with OWU writers after they graduate, said professor of creative writing and Night Owl consulting editor Robert Olmstead.
"Professor Caplan and I have always talked about ways to better keep up with our poets and writers as they move on from OWU," Olmstead said. "The idea of a very simple online literary journal seemed appropriate, a place for those people to gather."
He said the Night Owl "quietly debuted" on May 1, 2014, and so far the response has been overwhelming. Submissions to the publication have come from all over the world. Many of the Night Owl's writers and reviewers are OWU alumni, reaching as far back as '99, but many are not even academics.
"We have a college administrator from Wisconsin, a baseball umpire from Oregon, a painting contractor from Florida, a medical writer from Idaho, a fitness instructor from Pennsylvania," Olmstead said.
He said the Night Owl has a strong presence with publishers, receiving literature for review almost every day. These works are fiction, poetry, history, biography and culture.
All the books assigned for review are first read by Olmstead, and then he chooses each book's reviewer based on who he thinks would most enjoy reading it.
"Over the last ten years, book reviews have really dried up, so we are doing a small part in filling that need," Olmstead said. "There's something about getting your hands on a book six months or a year before it is published. Book writers are the first onto the truth, followed by journals, newspapers and television in that order. You'd think it might be the other way around, but it isn't. The slowest is first."
Riggio said she became involved with the Night Owl at Olmstead's request, and as managing editor she reviews and edits submissions, as well as manages the website.
Riggio, who is currently teaching in South Korea, has recently begun an "occasional contribution" called Dispatches.
"These Dispatches are a type of travel writing, similar to a blog, about my experiences and reflections in South Korea," Riggio said. "We would like for the Dispatches to be a section of the Night Owl in which people can submit from anywhere in the world."
She said she posts weekly, depending on submissions, and dedicates about five or six hours a week to the publication.
"To me, the spirit of the Night Owl permeates my daily life and so it feels less like a project with set hours and more like a constant process as a writer, thinker, and editor—one that I truly enjoy," Riggio said.
She said it has been a privilege to learn from the writers who submit to the Night Owl and from Olmstead, a professor and writer she admires and respects.
Senior Marta Del Cid is an IT assistant for Information Services and handles the technical side of the Night Owl website, supporting Riggio and Olmstead with website issues and design layout questions. Riggio said Del Cid has been "extremely instrumental" in the process of setting up the site.
"I would recommend students visit the site," Del Cid said. "It truly has been a pleasure working alongside Elizabeth (Riggio) and Mr. Olmstead to create a strong website for literary work."
Newest submissions appear at the top of the website and there are no advertisements, comment sections, or bright colors.
"Night Owl is about focusing on the art of the written word without the unnecessary and distracting bells and whistles," Riggio said. "You will be hard-pressed to find a publication like this."
To access the Night Owl, go to nightowl.owu.edu.