Ohio Wesleyan has made many changes to the campus going into the 2011/2012 school year.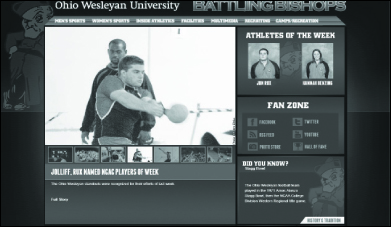 The next time you check the schedule of your favorite Battling Bishops team, you may notice another change: a new athletic homepage.
The new homepage saw various cosmetic changes, as well as some new functions like a live auction site.
One new feature, the Athlete of the Week, distinguishes Bishops who have proven themselves to be exemplary in their sport and recognized by the NCAC.
The new website                                                                                                                                          also features an online photo gallery, an online store where fans can purchase a variety of Battling Bishops gear and the ability to stream live games efficiently.
The redesign of the website was prompted by the university's desire for it to be easier to navigate and to allow for more media like live games and live statistics, said Athletic Director Roger Ingles.
Ingles also said that the website is more up-to-date and will appeal to high school students who are interested in becoming Battling Bishops.
"The modern look and ability to post more pictures and video is an added bonus that is attractive to high school age prospects as well as alumni and parents," Ingles said.
Ingles said that he and Sports Information Director Mark Beckenbach worked closely with Sidearm Sports to design and implement the page. The new page is modeled closely after the athletics homepage featured on Harvard University's athletic site, Ingles said.
"We gave them some ideas of what we wanted, and (Sidearm Sports) took it from there," Beckenbach said.
The new homepage has received good feedback for the most part.
A poll featured on the webpage reports that 85 percent of voters either love or like the site. Six percent feel that the new site is too busy, and 10 percent said they like the old site better.
"It is huge improvement over the old site which was very text heavy," Ingles said. "This site allows for more bells and whistles than the old one."
Sophomore Jenna Rodcay is impressed with the new homepage. She said it is a lot easier to use than the last homepage.
Navigation amongst the website is smoother and things are easier to find, Rodcay said.
"I think the new webpage looks a thousand times better," Rodcay said. "It is a lot more attractive than it used to be."
Rodcay said she especially likes the new scrolling calendar feature.
"[The calendar] feature is very easy to use," Rodcay said. "It allows me to see what sporting events are happening this week without having to dig through different pages."
Senior Jon Rux is one of this week's Athletes of the Week. He is captain of the track and field team where he is a thrower.
His previous two consecutive first place finishes in shot put earned him recognition as Athlete of the Week.
Rux said the new webpage is comparable to the quality of other schools' athletic pages and is a lot more navigable.
Ingles said that fans of the Battling Bishops can expect to see more online auction opportunities and expansion of video clips and other media on the new webpage in the next few months.