By: Evan Walsh, Transcript correspondent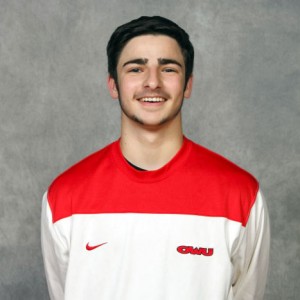 In basketball, size matters.
Don't tell sophomore Nate Axelrod that. Despite his small stature, last year's National Freshman of the Year is ready to lead the Ohio Wesleyan men's basketball team to another conference title.
"I'm not tall," Axelrod said. "But you can't let what you don't have define you."
Axelrod has found other ways to compensate for his size, or lack thereof. With technical precision that belies his 5'7 frame, the young man from Dublin, Ohio, has spent his life developing his skill set as a player.
"He's constantly looking for ways to improve. Coaches and other players appreciate a blue collar work ethic," said Matt Jeske, a senior forward and team captain.
That hard work bore fruit in a 2014-­2015 season in which he took home National Freshman of the Year, First Team all NCAC and Third Team All-­American honors. No small feat for a small man.
Still, basketball is a team game, and Axelrod knows his personal accomplishments mean nothing when it comes to the team's success. "I get to suffer through the emotional highs and lows with my best friends, my teammates," Axelrod said. "I need their support. Without it I never could have won those awards."
Coach Mike Dewitt draws comparisons to former Battling Bishop and All-­American, Andy Winters, class of 2013. "Both guys are undersized, but they work hard to control the rhythm of the game by getting teammates involved," Dewitt said.
"It's his selflessness that separates Nate from the other players and young men I've coached," Dewitt said. "He's a leader in everything he does."
Axelrod is an equally capable student, making the Dean's List each semester while mentoring at-risk students for several hours each week.
Through the first three weeks of practice Axelrod is optimistic about this year's team. All five of last years starters return this year and look to redeem themselves after last year's loss to St. Olaf College in the first round of the NCAA Division III tournament.
"We're going to win the regular season conference title and the conference championship," Axelrod said.
The No. 13 ranked team in the nation open their begin their season Saturday, Nov. 14 against conference rival, Otterbein University.