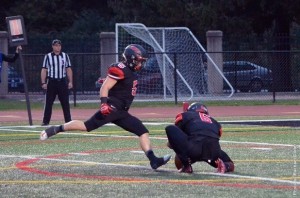 Miami Dolphins wide receiver Wes Welker kicked a field goal against the New England Patriots in 2004. An NFL wide receiver has not kicked a field goal since.
The Ohio Wesleyan football team has a wide receiver of their own who, unlike Welker, has been kicking field goals all season long.
Junior wide receiver Tim Shadoan has gone six for eight this year kicking field goals, including two from more than 40 yards and a game­ winner.
"I enjoy kicking for the team because it's another challenge," Shadoan said. "It's something that I know my teammates trust me doing."
His biggest kick of the year came in their conference matchup against Kenyon College a week ago. He converted on a 43­yard kick in second overtime to give the Bishops the win.
"I didn't think about much during the kick against Kenyon, I didn't want the pressure to get to me so all I thought about was doing my job and that's what I did," Shadoan said.
Shadoan kicked his junior year of high school, but this is the first time he has for OWU. Mile Mackenzie, OWU's all­conference kicker graduated in 2015. Head Coach Tom Watts spent the off-­season looking for his replacement.
"We went through the off-­season looking to see who his replacement would be," Watts said.
"Shadoan started to kick for us when we took our team to Italy, so we were able to see what he was able to do."
"Shadoan won the job being the most consistent," Watts continued. "He is an extremely talented athlete and a huge competitor."
In addition to kicking, Shadoan is leading the team with 25 catches for 206 yards. He has also tallied two touchdowns, one receiving score and one off a kick return. OWU has a current record of 2­4 and will play against Depauw University at Selby Stadium on Oct. 24.