By Transcript Staff
Delaware Police Department (DPD) is searching for two possible suspects for a "reported crime involving a gun" in downtown Delaware.
Ohio Wesleyan's Public Safety (PS) sent an alert at 11:47 a.m., Feb. 17, notifying the campus community to shelter in place while police search for the suspects.
"Police have two suspect descriptions: a bald white male with a red shoulder bag and white tennis shoes and a person wearing all black," the alert from PS said.
The shelter was lifted at 11:55 a.m., when PS sent another alert saying, "Delaware Police say OWU is able to resume normal operations. You no longer need to shelter in place."
To receive PS alerts, students can subscribe by visiting this link: https://www.owu.edu/student-life/campus-safety/owu-alert-system/.
Seniors Munir Qaddourah and Doug Sanders witnessed Delaware Police during the search and posted photos and videos to their Snapchat stories.
The Transcript has attempted to contact PS but has not been able to reach them yet.
In a press release, DPD stated they are investigating a bank robbery in connection to the shelter placed on campus.
"[The robbery] occurred around 11:18 a.m. today at the Chase Bank branch, (61 N. Sandusky Street, Delaware)," the press release stated. "A lone male robber entered the bank, threatened a patron with a knife, and demanded money. He left the bank on foot with an undisclosed amount of US currency."
The suspect is Jose Angel Santiago Cintron, a 42 year old man from Delaware. According to the press release and later confirmed by DPD Captain Adam Moore via voicemail, the suspect is in custody.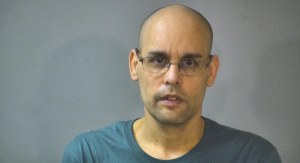 Photo of Suspect Jose Angel Santiago Cintron
"He is being held on one count of robbery and one count of kidnapping related to today's incident", said Moore.  
"[The suspect] was taken into custody without incident, several blocks from the bank, approximately 10 minutes after the initial call," the release said.
Cole Hatcher, director of media and community relations, also sent an email to the campus community at 2:01 p.m., saying the man was arrested in the vicinity of the campus and no one was injured.
In his email, Hatcher outlined a set of protocols to follow in case of emergencies:
"Follow a run, hide, fight protocol – in that order.

Get to a safe place as quickly as possible and secure yourself there. Lock and/or barricade doors as much possible for your immediate area. (If you are in a classroom, or similar, do not leave a safe space to reach personal offices, residence hall rooms, etc.)

Assess your surroundings to identify potential secondary escape routes and possible ways to subdue/disarm an assailant in a life-threatening situation. (Could you break a window if needed? Do you have pepper spray with you? Do you have access to heavy objects that may be thrown or otherwise used to subdue/disarm an assailant?)

Stay sheltered until you receive an all-clear message. This message likely will be sent via the OWU ALERT emergency notification system."
*This story will be updated as more information becomes available and was last updated at 5:07 p.m., February 17, 2017.