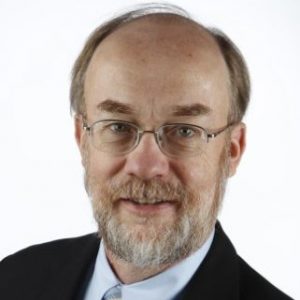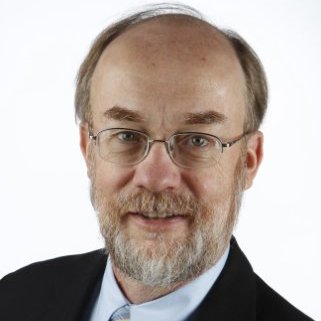 Dr. Paul E. Kostyu is retiring at the close of the 2018-2019 academic year after serving on the Ohio Wesleyan faculty since 1990. Born in Dayton, Ohio, he learned to play the piano, trumpet, baritone horn, and trombone, though he was not particularly good at any of them.
Dr. Kostyu attended Heidelberg College in Tiffin, Ohio, where he became involved in numerous campus organizations. As a runner, he set school records in the mile, three-mile and 3,000-meter steeplechase. In his sophomore year, he founded the college's cross-country program. He graduated with the school's top award for his contributions to Heidelberg life.
Dr. Kostyu later coached the cross country and track teams at Heidelberg and the cross-country program at Tiffin University. Hired in September 1973 by the Tiffin Advertiser-Tribune, Dr. Kostyu honed his skills as a reporter, editor, and photographer. He covered President Gerald Ford's Ohio campaign and the Great Blizzard of 1978. During this time, he earned a master's degree in Popular Culture from Bowling Green State University.
In 1978 he joined the Greensboro (N.C.) News & Record, working as a reporter, bureau chief, copy editor, and page designer. During his tenure there, he received a Journalism Fellowship to study in Wales, where he studied Welsh culture and traveled extensively throughout Europe. After returning to the U.S., he led another bureau for the Greensboro paper until his return to Ohio in 1985. Dr. Kostyu earned a doctorate in Mass Communication at Bowling Green State. His dissertation about the federal Freedom of Information Act was cited in a 2015 book about the public's right to know. His study of media ethics won the national Carol Burnett Award for Ethics.
In 1990, he joined the faculty at Ohio Wesleyan. At OWU, Dr. Kostyu advised The Transcript and taught media law, fundamentals of journalism, data journalism, senior seminar, journalism history, and editing & design. In 1999, he accepted a fellowship in the photography department at National Geographic Magazine. In 2000, he returned to journalism as a political reporter for Copley Newspapers, GateHouse Media, and Gannett Media, but continued to teach part-time at OWU.
During this time, he received a nomination for a Pulitzer Prize for his investigation of corruption in Ohio's teacher pension system. He won numerous national and state awards for his investigations, use of public records, breaking news, and feature writing. His stories led to changes in Ohio law and a number of convictions. He covered two national GOP conventions and interviewed presidents and presidential candidates. He appeared on ABC, CBS, MSNBC, among others, and was profiled by ABC's "Nightline" and Agence France for his expertise on Ohio politics.
Dr. Kostyu returned to OWU in 2013 as chair of the department. In 2017, he led the effort to add a major and minor in Communication. During his tenure at OWU, he co-authored two texts, Reporting for the Media and Communication and the Law, and contributed chapters to Trade, Industrial and Professional Periodicals of the United States, and Women's Periodicals of the United States. His stories were published U.S. News & World Report and News Photographer magazine. Dr. Kostyu held a Kiplinger Fellowship in Public Affairs Journalism at The Ohio State University. He presented at numerous conferences and published in the Newspaper Research Journal, American Journalism, and Journalism of Mass Media Ethics. His photo coverage of the January 2017 shooting at the Fort Lauderdale Airport went worldwide.
Dr. Kostyu helped rewrite racial and sexual harassment policies for OWU; co-directed several Sagan National Colloquiums; gave the Vogel Lecture; and, in the words of a former chairman of the Ohio Democratic Party, "was a pain in the ass" for politicians, college administrators, and some faculty colleagues.
A staunch believer in and advocate for freedom of speech and the press, as well as student rights, Dr. Kostyu is most proud of the success his students have achieved in journalism and other careers. He plans to write stories, books, and plays, while making time for his other passions: Hemingway, old typewriters, woodworking, and golf. He and his spouse, Regina, are proud parents of Kurt and Eva.