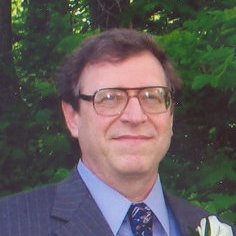 Gerald Goldstein, Professor of Botany and Microbiology, is retiring at the end of the 2018-2019 academic year after serving on the faculty of Ohio Wesleyan University for 36 years. Jerry received a Bachelor of Science degree in Zoology from the University of Wisconsin-Milwaukee and had originally intended to pursue wildlife management as a career until taking a job managing the microbiology labs at his alma mater. Cleaning test tubes and Petri dishes led to teaching introductory labs, and soon Dr. Goldstein found himself pursuing his own research into viruses and viral replication. He earned a master's degree in 1979 and his Ph.D. in 1983, the same year he was appointed Assistant Professor at Ohio Wesleyan.
Throughout his career, Dr. Goldstein mentored students in research at all levels, from the beginner to the advanced, always focusing on helping students develop their potential. As one former student said, "Jerry introduced me to the joy of the scientific question. His gentle ability to build confidence in students while teaching rigorous skills and complex concepts helped me and countless students gain mastery in the field of microbiology, but also to have the self-assurance to continue to pursue challenging work."
Dr. Goldstein's early research efforts at OWU focused on studying the properties of inhibitors of viral replication, for which he was awarded a National Institutes of Health grant in 1987 that led to several presentations and publications with students.
Then in 1991 an unusual research opportunity presented itself when workers enlarging a golf course in Newark, Ohio, unearthed an intact skeleton of a mastodon preserved in a peat bog. Dr. Goldstein wondered whether the preserved specimen might contain any prehistoric microbes, and he was granted permission to attempt to culture the contents of the animal's intestines. When he was able to culture Enterobacter cloacae, a bacterium common to animal digestive systems, the discovery earned enthusiastic acclaim in the national and international media. Dr. Goldstein and his students went on to sequence the DNA of antibiotic resistance genes of the organism they had cultured, enabling comparison with the genomes of modern descendants of these prehistoric microbes.
In 1991, Dr. Goldstein collaborated with several other faculty members across the sciences at OWU to pursue an institutional grant from the Howard Hughes Medical Institute (HHMI) aimed at improving undergraduate science education, with an emphasis on providing authentic laboratory research experiences for students. Over the course of the following decade, Dr. Goldstein and collaborators were awarded over $2 million in HHMI funding, which laid the foundation for the rich research experiences OWU offers to students across the sciences today, including the Summer Science Research Program, which was initiated through the series of grants from HHMI.
The next chapter of research would begin to take flight in 1995, when Dr. Goldstein joined an interdisciplinary project including Jann Ichida in Botany and Microbiology, Jed Burtt in Zoology, and David Lever in Chemistry to study the microbes that degrade bird feathers, supported by funding from the National Science Foundation. Dr. Goldstein and his students cloned and sequenced the genes that help microbes degrade keratin, the major protein making up feathers, in environmental isolates collected by students under the mentorship of Drs. Burtt and Ichida. The research would go on to span 15 years and was supported by over $1.5 million in external funding, resulting in numerous publications and patents and providing research experiences for dozens of Ohio Wesleyan students.
In addition to his deep and lasting impact on the lives of OWU students, Jerry is a proud father of Kaye and Sara and husband of Marty. He plans to continue his microbiology "hobby" in retirement, studying the effects of herb and spice extracts, some of which actually increase the replication of bacterial viruses.