Transcript Staff
Luke Anthony Gabbert, an OWU freshman from Lewis Center, Ohio, was found dead Saturday morning in the Delaware Run, a small stream flowing near the campus off Spring Street.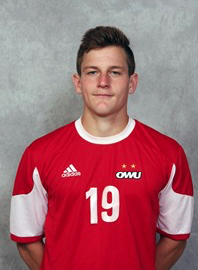 Gabbert was a soccer player and a new pledge of Phi Kappa Psi fraternity.
Just after 10:30 a.m., Delaware police sectioned off part of downtown on South Franklin Street, not far from the Hamilton-Williams Campus Center.
Robert Wood, director of OWU's Public Safety, said, "We are currently working on an investigation with the city and should be able to release additional details soon."
The cause of death is undetermined and still being investigated by Delaware police who are awaiting autopsy results. No evidence of foul play has been found so far.
President Rock Jones sent an email to the campus community about Gabbert's death. Members of the chaplain's office and counseling services staff were available for students and faculty members to go to shortly after receiving the news.
"Words can not express the sorrow and hurt that comes with the loss of Luke Gabbert. I hold his family, friends and our OWU family in my prayers and thoughts as we all try to make sense of this horrible tragedy, " said Roger Ingles, director of athletics.
Ingles said he is hopeful the Delaware Police Department will conclude their investigation and be able to give answers to unanswered questions regarding Gabbert's death.
The Transcript will update this story as more information becomes available