By: Cassie Ingram, Transcript correspondent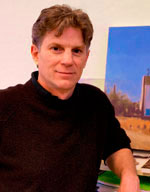 During his senior year of college he decided to start painting landscapes. Little did he know where it would take him. Now an art professor at Ohio Wesleyan University, Frank Hobbs is pursuing his dream of painting beautiful landscapes.
"Nature has always been important in my life, but I didn't start painting landscapes in earnest until my last year of college," said Hobbs, associate professor of fine arts.
Already a fairly established landscape painter back in his hometown of Virginia, he fell even more in love with landscapes once he moved to Ohio in 2007.
After Hobbs gained a teaching position at OWU part-time assistant professor Nancy Murray drove Hobbs around the area and gave him an "enlightening discourse on the geology, biology and botany of the region," Hobbs said.
"I could already see the places I'd want to return to and paint," Hobbs said.
Starting in 2007, Hobbs has been producing landscape works of different areas in Ohio.
Gallery 22, sponsored by the Delaware Art's Castle and located at 22 Winter Street next to the Strand Theatre, is hosting Hobbs and about 30 of his landscape paintings of Ohio. His technique is different from most painters, and is "very stylized," according to some viewers of the show.  His paintings are fuzzy, not quiet crystal clear, but you can tell what they are easily.
The show at Gallery 22 is only a small retrospective of work that he's done since his arrival in 2007. The rest of the work has either been sold or located in various galleries that are representative of Hobbs.
Ray Wollschleger, a studio and pastel portrait artist in Delaware that has a studio in the back of Gallery 22, has seen all of Hobbs paintings in the Gallery and had a lot to say on the topic.
"He has a great sense of perspective, and it's very appealing and well set up," Wollschleger said.
"Most artist's pallets and artworks are influenced by a time and place that they are doing their work in."
"I wanted to give viewers a sense of the beauties and idiosyncrasies of the place they call home," Hobbs said.