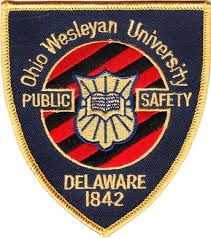 DJ Fradkin, Transcript Reporter
If you've heard rumors about Ohio Wesleyan students being seen driving OWU Public Safety (PS) vehicles and giving out parking tickets, your sources aren't wrong. 
At the beginning of the 2015-16 school year, PS opened a few positions to students, mainly for enforcement.
PS offered three positions in the fall semester and offered two positions during the spring semester, which have already been filled.
The students who are currently employed remain anonymous. Rumors that these students are working undercover arose, but these were found to be false.
"It is like any other job on campus. We obviously don't put them in a public safety uniform, but they will have identification and a security vest," said Robert Wood, the director of PS.
Students in duty can be seen driving a PS marked vehicle or an Acura, which is currently unmarked.
This position offers students around six hours of work each week.  The responsibilities of this job primarily includes ticketing, but they could receive other tasks such as counting the number of cars parked in each lot or assisting with building lock up on the academic side of campus.
The information regarding wage was not disclosed, but "the pay is fairly decent because students are out in the cold and it probably pays better than some other jobs around campus," Wood said.
Prior to this year, John Ciochetty, a PS officer,  mainly handled ticketing. A few PS officers who worked full time were let go this year due to pay cuts.
But the new system works really well as it supplies students with employment and the students are less expensive to pay than full time employees, Wood said.
A different rumor also arose that the PS department is having students track down Yik Yak and other social media posts.
Junior Isabella Flibotte said, "The school needs to loosen the leash on the students and let them enjoy their college experience without feeling as if they're constantly watched like high school students."
Freshman Victoria Chavez said, "If a serious issue arose and became harmful then they should step in, but other than that, they should not be involved."
The reactions from most students indicated they were not in favor of PS monitoring their social media.
Wood disproved the rumors and said they don't track down student's social media. "Jay does a Facebook thing, but we don't do anything other than that and don't plan to do that," Wood said.
If students are interested in learning more about this job, they can speak to a representative at the PS office.